Union minister Hegde apologises for 'Change Constitution' remark, says comment put out of context
Union minister Anant Kumar Hegde apologised for his comment that the Constitution has changed several times and it will change in the future too.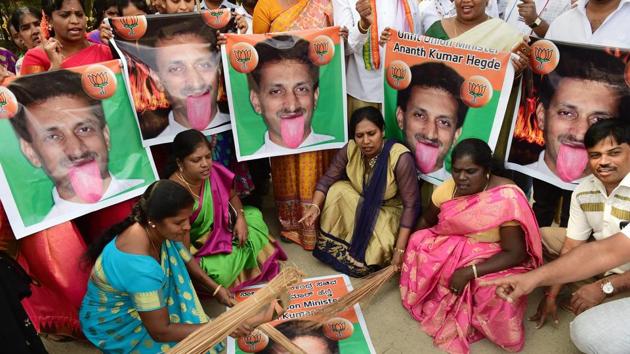 Updated on Dec 28, 2017 01:08 PM IST
Union minister of state for employment and skill development Anantkumar Hegde on Thursday apologised to the Lok Sabha for his remarks against the Constitution but said that his comments were "twisted".
"I deeply respect the Constitution, Parliament and Babasaheb Ambedkar. The Constitution is supreme for me, there can be no question on it, as a citizen I can never go against it," Hegde was quoted as saying by news agency ANI.
"Regarding the deadlock in the Lok Sabha and Rajya Sabha due to my statement, I want to assure my friends that the Constitution is supreme to me, Parliament is supreme to me," he said.
Congress leader Mallikarjun Kharge, however, objected to Hegde's clarification and said that he had spoken against Ambedkar.
Speaker Sumitra Mahajan then urged the minister to apologise. "Sometimes in life, we feel what we have said is right, but others may still get hurt," she said.
Hegde then extended an apology and said: "My words have been twisted and presented, I never said all this ... But if someone was hurt, I apologise to those members."
Hegde had reportedly said at a public event in Karnataka on Sunday that people should identify themselves by their religions and "those who, without knowing about their parental blood, call themselves secular, they don't have their own identity ... They don't know about their parentage."
"Seculars do not know what their blood is. Yes, the Constitution has given that right to say 'we are secular'.... but Constitution has been amended many times, we will also amend it. We have come to power for that," Hegde was reported as saying.
The main opposition party's leaders, including Rahul Gandhi and Ghulam Nabi Azad, protested in front of Mahatma Gandhi's statue inside Parliament premises over Hegde's comments.
And earlier in the day, Gandhi attacked the ruling Bharatiya Janata Party over Hegde's remarks and without naming him said that senior BJP members had made the statements against the Constitution.
"Today, it is distressing to see the Constitution, the foundation of our country, under threat. It is under attack directly, statements are being made by senior BJP members and it is under attack surreptitiously from the back," Gandhi said at a ceremony to commemorate the 133rd foundation day of the Congress party.
Hegde's remarks led to disruptions in both the Lok Sabha and Rajya Sabha on Wednesday when Parliament met after a four-day-long break.
The opposition sought Hegde's removal from the Council of Ministers and Parliament, saying he had insulted the Constitution of India as well as its architect Ambedkar.
The Narendra Modi government distanced itself from Hegde's remarks, saying it is committed to the Constitution.
Close Story
Personalise your news feed. Follow trending topics