When Azadi slogans greeted leaders of all-party team at Geelani's house
Updated on Sep 04, 2016 09:51 PM IST
"Talking to Omar Abdullah or Mehbooba Mufti is of no use. Talk to the separatists if you want to hear the actual thing," a local shouted at the leaders.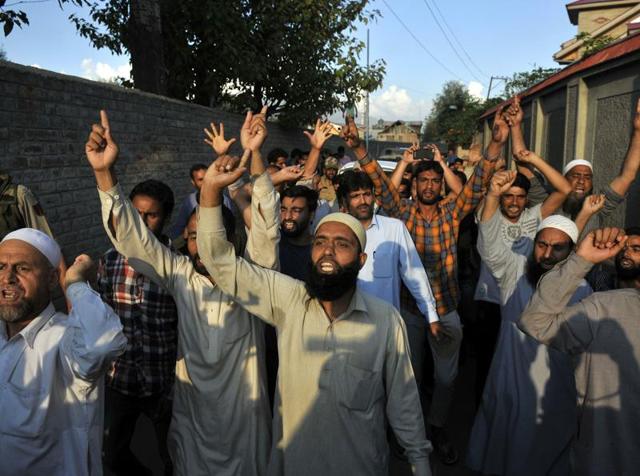 Abhishek Saha, Hindustan Times, Srinagar
Reporters and photographers had waited for more than an hour outside separatist leader Syed Ali Shah Geelani's residence in Hyderpora area of Srinagar on Sunday before all-party delegation members Sitaram Yechury, D Raja and Sharad Yadav arrived in a cavalcade.
A police van, complete with a makeshift facility for the men to lie down and make tea and snacks, stood next to the gate of the house where Geelani is under detention.
Yechury was the first to come out his car and a horde of mediapersons surrounded him, bombarding with questions. The CPI(M) leader walked past the journalists towards the green gate, followed by D Raja and Sharad Yadav.
But a man peeped out of an opening in the gate and told the leaders that Geelani would not be meeting them. It was breaking news. As the three leaders started their walk back, reporters called up their bureaus and blared out "Geelani refuses to speak to leaders". Policemen on duty, including some top cops escorting the delegation, waited and watched.
Television journalists surrounded the leaders asking them for a "byte". The leaders told reporters about working together to find a solution, about ending the turmoil and ensuring peace in Kashmir.
Yechury said the visit was part of an outreach to end the unrest while Raja said that they wanted to hear what the separatist had to say but regretted that they did not want to talk. When a journalist asked Raja about whether Kashmiris would get azadi, he replied about "winning back the hearts of Kashmiris".
By then, local residents, mostly middle-aged men in kurta-pyjama had gathered around the leaders. One asked Yadav why the government hasn't released the separatist leaders if they wanted to talk to them.
For these locals, elected representatives seemed to be irrelevant.
"Talking to Omar Abdullah or Mehbooba Mufti is of no use. Talk to the separatists if you want to hear the actual thing," one shouted at the leaders.
In a few minutes, intense sloganeering started. Shouts of Hum Kya chahte ... Azaadi and Go India Go Back reverberated in the air while the cavalcade tried to move out of the lane into the main road.
Yadav, Yechury and Raja had earlier gone to meet Jammu and Kashmir Liberation Front (JKLF) chief, Yasin Malik at a police hub turned into a prison at Humhama, near the Srinagar airport. Malik met them for a few minutes.
Separately, Asaduddin Owaisi of the Majlis-e-Ittehadul Muslimeen went to meet moderate Hurriyat leader Mirwaiz Umar Farooq at Chashma Shahi where a tourist hut has been converted to a sub-jail. But the meeting was quite short.
Close Story
Personalise your news feed. Follow trending topics