Reaching for the sky: Meet India's women fighter pilots
Updated on Jun 19, 2016 09:33 AM IST
It was a dream come true for Avani Chaturvedi, Bhawana Kanth and Mohana Singh, as they were inducted into the Indian Air Force (IAF) as the first women fighter pilots on Saturday.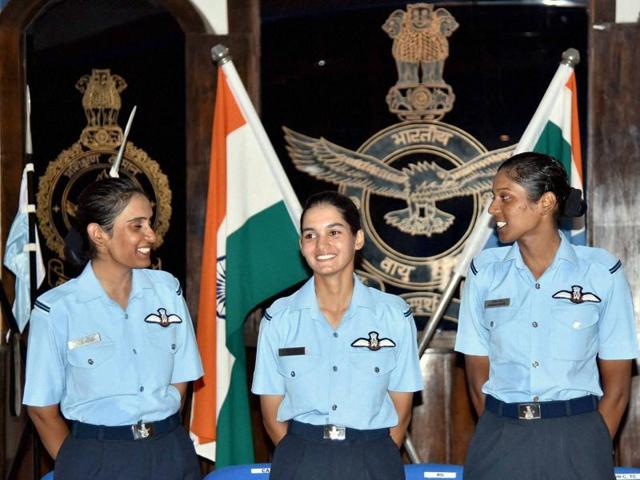 Avani Chaturvedi, Bhawana Kanth and Mohana Singh were inducted into the Indian Air Force (IAF) as the first women fighter pilots on Saturday.
They have cleared the first stage of training and have about 150 hours of flying. The trio will soon fly to Bidar in Karnataka for their next round of training including flying of fighter jets like Hawk, Sukhoi and Tejas. They will complete the training by next year.
As the three pilots get their wings to fly, here is all you need to know about them
Avani Chaturvedi, 25
Born at Satna in Madhya Pradesh, Avani did her schooling from Adarsh Higher Secondary School at Deolond near Rewaa and graduated in B Tech. (Computer Science) from Banasthali University, Jaipur. Fond of painting and playing violin, she chose to join the IAF after being inspired by the life of army officers in her family. She had a few hours of flying experience that she gained at her college flying club. "I got selected for flying stream and subsequently for fighter flying. I got the opportunity to fly two different aircraft, one very modern and advanced, and the other stalwart trainer with the best of the instructors. My dream is to become a good fighter pilot on whom my seniors can rely when it comes to flying for live operations. I want to fly the best fighter aircraft and learn each day," she said. On her scary experience on fighter jet, Avani said as she was preparing to take off for her second solo sortie, she heard the Canopy Warning Audio coming on. "At first, I got confused seeing the emerging situation. However, the training I had undergone helped me arrive at a decision quickly. I aborted the take-off and took all the actions to stop the aircraft safely on the runway," she said.
Bhawana Kanth, 24
Hailing from Darbhanga in Bihar, Bhawana was born and brought up in Refinery Township, Begusarai, where her father was working as an engineer in IOCL. She did her schooling from Barauni Refinery DAV Public School and completed her Bachelor of Engineering in medical electronics from BMS College of Engineering, Bangalore. Bhawana loves playing badminton, volleyball and adventure sports besides having an interest in photography, cooking, swimming and travelling. It was her dream to fly like a free bird since childhood which inspired Bhawana to join Indian Air Force. After clearing Stage I training, she got the opportunity to opt for fighter stream. Recalling her first experience of spin solo on fighter aircraft Kiran, Bhawana said as she entered the aircraft into spin and recover it all by herself at 20,000 feet, doubt started creeping into her mind as to what if the aircraft didn't recover. "I told myself that if I don't do it now, I will always be afraid of it. I spun the aircraft and to my surprise, the spin was more vicious or so it seemed. But the fighter pilot in me took over and I told myself come what may I will recover. And the aircraft recovered from spin and so did my confidence," she said.
Mohana Singh, 24
From Jhunjunu in Rajasthan, Mohana did her schooling from Air Force School in New Delhi as her father is currently serving in the IAF. She completed her B Tech (Electronics & Communications from GIMET in Amritsar. Among her hobbies are singing, sketching abstracts and reading, travelling, photography and cooking. Born in a family of IAF officers, Mohana wanted to carry the legacy. "I always aspired to make my parents proud by becoming a fighter pilot and fly the best of the fighter aircraft in the IAF," she said. On her experience in night flying phase, Mohana remembers the small puffs of beautiful crackers bursting thousands of feet below during her first take off in the night flying phase. "I faced difficulty in discerning between the stars in the dark sky above and the small clusters of light on the dark ground beneath. Soon, I realised I was not able to maintain any connection between instruments and the visual indications of aircraft attitude. Then I remembered the words of my trainer and disregarded the visual indications and continued descent to a lower altitude relying totally on instruments. Once visual with the ground, I got oriented and recovered the aircraft safely."
In pics| Confident women IAF fighter pilots ready to conquer the sky
Close Story
Personalise your news feed. Follow trending topics