Youth rapes 8-year-old, slits her throat and leaves her for dead in Mandsaur; cops catch him in 24 hours
Updated on Jun 30, 2018 08:13 AM IST
Irfan Khan, a labourer in a local market, had raped the girl in a secluded place and then left her for dead after slitting her throat. The child is in a critical but stable condition in an Indore hospital.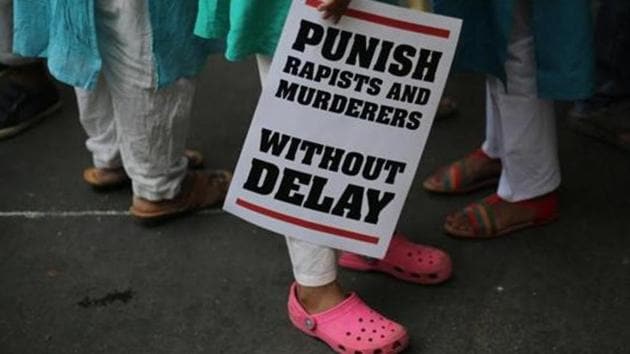 Hindustan Times, Bhopal/Mandsaur |
Rohit Soni
A 20-year-old youth was arrested in Madhya Pradesh's Mandsaur on Thursday for raping an 8-year-old girl and slitting her throat, leaving her for dead.
Irfan Khan, a labourer in a local market, had taken the girl, who was waiting for her father after school, to a secluded place and raped her. He had slit her throat with a sharp-edged weapon and left her for dead, police said.
On Wednesday night, she was found in a pool of blood near her school and admitted to MY Hospital in Indore in a critical condition.
Her condition is stated to be stable. MY Hospital's Dr Sharad Thora said, "The girl is responding to treatment and getting better. But she is mentally disturbed due to the incident."
Based on the medical examination of the girl and the doctor's statement, police booked Irfan for kidnapping and rape and also under sections of Protection of Children from Sexual Offences (POCSO) Act.
Mandsaur superintendent of police, Manoj Singh said Irfan was nabbed within 24 hours of the crime with the help of CCTV footages in which he was seen taking the girl with him after school hours.
Police said Irfan has a criminal record and is said to be a habitual drinker.
Meanwhile, Mandsaur residents called a bandh on Thursday to register their protest.
The girl's father demanded death sentence for Irfan. "The accused should be hanged. I want justice for my daughter," he said.
Mandsaur Advocates' Association have decided not to fight the accused's case.
The Anjuman Islam, Mandsaur unit president, Yunus Sheikh condemned the rape and demanded death penalty for Irfan. They also declared that no burial space would be given to Irfan after his death.
Personalise your news feed. Follow trending topics