African woman forced to give urine sample in public during Bharti's raid: Harish Salve
A group of young Africans found themselves in the middle of a political and media furore in Delhi with law minister Somnath Bharti accusing them of being part of a "prostitution and drug racket" and demanding their arrest.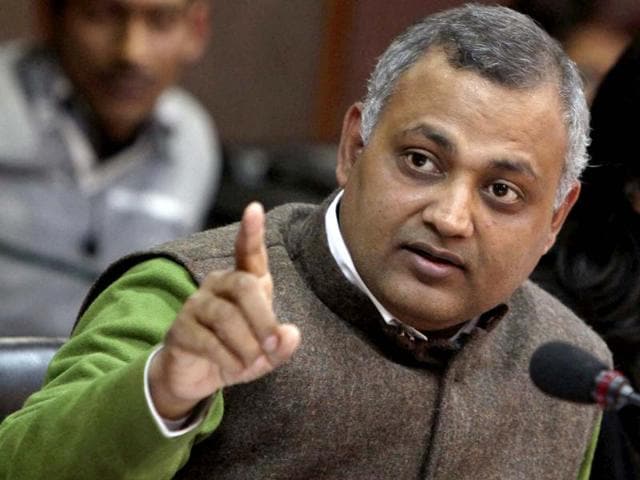 Updated on Jan 17, 2014 08:48 PM IST
An African woman was allegedly forced to give a urinary sample in public for a drug test during Delhi law minister Somnath Bharti's raid in a south Delhi locality he claimed had a "drug and prostitution" racket, lawyer Harish Salve told NDTV on Friday.
A group of young Africans on Friday found themselves in the middle of a political and media furore in Delhi with the greenhorn minister in the new state government accusing them of being part of a "prostitution and drug racket" and demanding their arrest.
The women, mostly Ugandans and Nigerians, said they were assaulted by "people not in uniform" while a member of the ruling Aam Aadmi Party (AAP) charged the minister with making "racist remarks" against the Africans.
One of the women, who called herself Sandra, a student, narrated the Thursday night incident: "We were in our house when suddenly we heard people shouting outside.
"When we peeped out, we saw a huge crowd. We got scared and locked ourselves inside," Sandra, 24, pursuing a course from the Indira Gandhi National Open University, added.
Her friend, Selvia, 23, who has come for medical treatment, said: "They hurled abuses and insulted us."
Both of them said the police came and told them to come out of their rooms. "We were taken to the hospital and later allowed to return home," Sandra said.
"We thought the crowd will kill us. We were very scared," she added.
According to eyewitnesses, Bharti and the party volunteers came in large numbers and tried to barge into a house from which they claimed a "drug and sex ring" was operating.
Other Africans, most of whom come here either for higher studies or for medical treatment, said that men wearing "black jackets" knocked on their door.
"Around 12.30am, I was inside my house with my roommates, when some people wearing black jackets started knocking on our main door. They wanted us to show them our passports," 29-year-old Irene, who lives in the same lane, said.
"However, after five to 10 minutes, the police came and took them away," she said, adding she felt the mob would "kill" them.
When the police reached the spot, the minister had a heated argument asking them to arrest those operating the "racket". But Delhi Police, in defiance of the minister, refused on the ground that under the law women could not be arrested after sunset and that they did not have a warrant.
Bharti's vigilante action came in for much criticism with a new entrant to the party, activist Mallika Sarabhai, saying the minister's remarks against Africans "smacked of racism".
The minister had said he decided to take action because of "complaints from women in the neighbourhood" about the activities of some "foreign nationals", which included "Nigerians or Ugandans".
It is the stereotyping of Africans in India based on local prejudices that is responsible for this kind of incident, Africans in the national capital said.
"I felt terrible when I heard police took four African nationals for a medical examination. People are extremely bitter towards us because of our skin colour," said James Bigami from South Africa, studying for a medicine degree in the capital.
"People here mess with Africans and treat them badly," he added.
"The police cannot just arrest people without proof. The law is the same for all, it cannot be different for foreigners", said Joshua Parkinson from Nigeria, who runs an import-export business here.
About Thursday's incident, he said: "Some residents (of the localities) try to throw their weight on the Africans." "Just because a few Nigerians have been caught in a drug scandal does not mean that all of us are peddlers. People should stop generalising," said Divine from Nigeria who works at an African style hair salon, run by a countryman, in Arjun Nagar.
"If any black person does something bad, here they blame it on Nigerians. But there are so many Africans from countries like Ghana, Congo, Cameroon, Togo," said Nigerian national Jacob, who spends part of the year here buying medical equipment for Nigeria.
Delhi chief minister Arvind Kejriwal January 16 denied his ministers were interfering in police work, saying it was the duty of the ministers to speak and act if they witnessed any crime.
He also demanded the Delhi Police suspend the police officers involved.
But the police refused to do so, saying the were only following the law. Both the Delhi Police, which functions under the union home ministry and some ministers of the Delhi government reached the doors of Lt. Governor Najeeb Jung, who Friday ordered an inquiry into the incident.
Close Story