Caesar's wife must always be above all suspicion: VR Krishna Iyer
Updated on Nov 09, 2014 02:23 PM IST
Always a socialist at heart, freedom fighter, legal luminary, activist and orator Justice (Retd) VR Krishna Iyer tells Hindustan Times, why he praised Narendra Modi, discusses the need for judicial reforms, his dreams for India and the shift from left to right.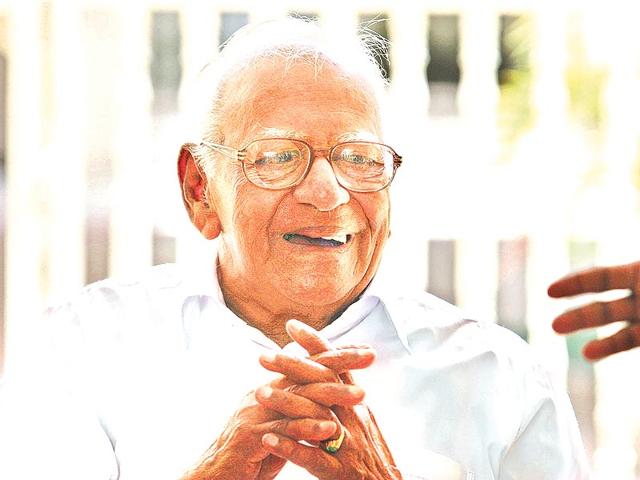 When Iyer speaks the entire nation listens, noted jurist Fali S Nariman once said. A freedom fighter, legal luminary, activist, orator and minister in the first democratically elected Communist government in Kerala, Justice (Retd) VR Krishna Iyer turned 100 on November 1.
Always a socialist at heart, many were surprised when he recently praised prime minister Narendra Modi of the Bharatiya Janata Party. Some even dubbed him an opportunist. In an interview with Hindustan Times, Iyer discusses the need for judicial reforms, his dreams for India and the shift from left to right.

You were part of the freedom movement, saw the birth of Independent India. How does the country you see around you today compare with the visions you had?
I am not happy with where the country stands today. Nearly seven decades after Independence, the poor remain poor and corruption rules the roost. I don't know how we went so wrong. Casteism and communalism still divide our society. We still do not have universal education; our backward classes are still backward. The upper classes hold all the power. But I haven't lost hope altogether, and I am not ready to blame politicians and 'the system' for failing us. I still believe that we can - and must - transform our economy and our society through socialism.

So you're still a socialist at heart, but you recently faced some serious flak for praising prime minister Narendra Modi…
Look, I was one of the first to condemn the Gujarat riots. That doesn't mean you have to hate the man forever. Even the Supreme Court-appointed Special Investigation Team gave him a clean chit. And yes, I liked the way Modi brought change to Gujarat. Now, he has to walk the talk. I have pinned much hope on this man and we must give him time to deliver. I don't expect marvels immediately. But for the first time, it feels like someone is in charge.

Is that what you admire most about Modi?
I like his simplicity and humble nature. Last year, he came to meet me without any notice. Suddenly he was just standing on my doorstep asking if he could enter my house. Whenever I meet him, I tell him to maintain this humility and sense of humanity. I heard he's coming to Kochi to greet me in the second or third week of November.

You once said Modi was capable of eradicating corruption in the country and helping bring in real swaraj.
Yes. He has to work hard. He has to prove his mettle. Corruption is the biggest scourge on the country. Sadly, it has become almost institutionalised. Mere slogans won't do. We need sincere and revolutionary steps to contain this monster. The Supreme Court has taken an apt decision in bringing back the black money stashed abroad. Now the government should give it all-round support. The current regime should be doing more on this.

You were a member of the first democratically elected communist government in Kerala. How do you view the future of communism in India?
I was never a cardholder. I joined the first communist government after much persuasion by EMS Namboodiripad. Communists were vanquished because people lost faith in them. They talk big but it never reflected in their work. And yet the leaders are yet to realise that they are fast losing their grip.

What is your take on the need for judicial reform?
Currently, cases are piling up and the judicial process is very slow. Even the trial of former prime minister Rajiv Gandhi's assassination dragged on for years. Undertrials, meanwhile, are spending years in prison. I was appalled to read recently that one-third of all of India's prison inmates are undertrials. You can't put people behind bars for that long.


The judiciary also has to be more active in weeding out corrupt elements, if any, at the earliest. I was pained to hear sexual harassment charges levelled against some judges recently. Where will the poor people turn in such cases?
This is why police and judicial reforms are the need of the hour. We need periodic changes in the system. We have to change with the times. And Caesar's wife must always be above all suspicion.
Personalise your news feed. Follow trending topics