Climate change not of India's making, rich nations to blame: Modi
Nov 30, 2015 08:33 PM IST
Prime Minister Narendra Modi urged affluent nations on Monday to shoulder more responsibility in the battle against climate change, saying India did not create the problem but was suffering its consequences.
Prime Minister Narendra Modi said on Monday India did not create the climate change menace but was suffering its consequences while he delivered a stern message to affluent nations, saying "those with luxury of choices should sharply reduce emissions".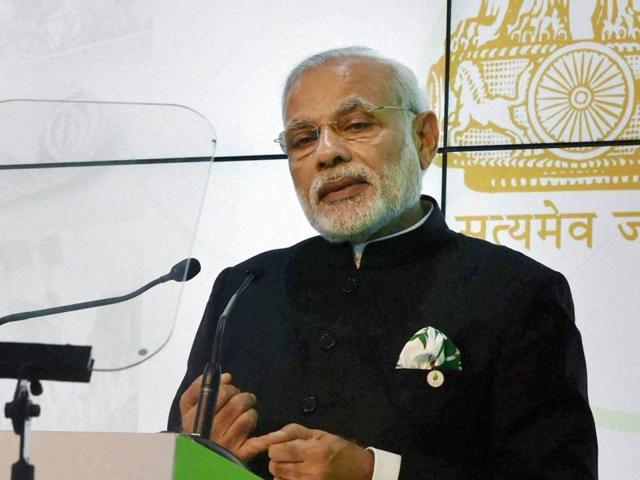 His comments came on the sidelines of a high-stakes United Nations conference in Paris where over 150 world leaders have gathered in a bid to nail down a pact to limit global warming amid deep divisions between rich and poor countries.
Stay tuned with breaking news on HT Channel on Facebook.
Join Now
"Climate change is a major global challenge. But it is not of our making. It is the result of global warming that came from prosperity and progress of an industrial age powered by fossil fuel," he said while inaugurating the India pavilion at the summit, toughening his country's stand in the face of US criticism of India.
"But we in India face consequences. We see the risk to our farmers. We are concerned about rising oceans that threaten our 7,500 km of coastline and 1,300 islands. We worry about the glaciers that feed our rivers and nurture our civilisation."
Modi said India wants a "comprehensive equitable and durable agreement", underscoring a demand of less-privileged nations who have said as developed countries have been the major polluters over the years, they should assume a greater role in fighting global warming.
He clearly outlined India's strategy for the 10-day-long summit, saying the developed world should provide easy access to cleaner technologies, climate finance and right to carbon space.
"India's progress is our destiny and right of our people. But we must also lead in combating climate change," he said in Paris where he will also jointly host a meeting of the International Solar Alliance with French President Francois Hollande.
India, he said, will ensure 40% of its installed energy capacity is based on non-fossil fuels.
"We have a target for renewable generation of 175 Gigawatt by 2022. We have got off to a good start, with nearly 12 GW likely to be installed by 2016, more than three times the current capacity," said Modi.
He also recalled the contributions of various Indian leaders, without naming them, from the first environment conference in Stockholm in 1972 – where former Prime Minister Indira Gandhi was among the few heads of state to participate – to Copenhagen in 2009 where Manmohan Singh was present.
Apart from the Prime Minister's remarks on climate change, his brief meeting with Pakistani counterpart Nawaz Sharif at the start of the conference's high-level segment drew much media attention.
Sources said Modi walked towards Sharif who was sitting on a sofa. Sharif responded and the two shook hands. Modi reportedly sat beside him in the lounge for the heads of state.
Officials said the two leaders spoke for a few moments without any official delegates around. Indian government sources, however, said that the two prime ministers exchanged pleasantries and termed it a courtesy meeting.
Modi and Sharif had last held a formal meeting in the Russian city of Ufa in July amid hopes of a thaw in frosty ties between the two countries.
But relations nosedived weeks later and talks between the national security advisers were called off over a meeting between the Pakistani envoy to India and Kashmiri separatists.
The two leaders attended the United Nations General Assembly in New York two months ago but did not have a meeting.
Indian sources said the Paris meeting was not pre-decided and it was an impromptu action on part of Modi.
Modi also met French President Francois Hollande earlier and asserted that "credibility of commitments" to combat climate change by nations will be the key to a successful agreement during the summit.
"PM @narendramodi begins engagements at #COP21 by meeting President Hollande. PM @narendramodi meets Prez @fhollande, conveys that as world meets for #COP21, Paris is about rebuilding trust," tweeted ministry of external affairs spokesperson Vikas Swarup.
The Prime Minister will also meet US President Barack Obama to discuss climate change and review bilateral relations between the two countries.