India drops Israeli missile for Arjun Tank
Sep 22, 2014 07:36 AM IST
In an exclusive interview to HT, DRDO chief Avinash Chander said, 'The LAHAT missile doesn't figure in our plans anymore. We are dropping it. We have been working on a tube-launched anti-tank missile, which hopefully can be configured for the tank's cannon.'
The homemade Arjun Mk-2 tank has suffered a major setback, with a critical Israeli anti-tank missile to be fitted on it failing to meet the army's requirements.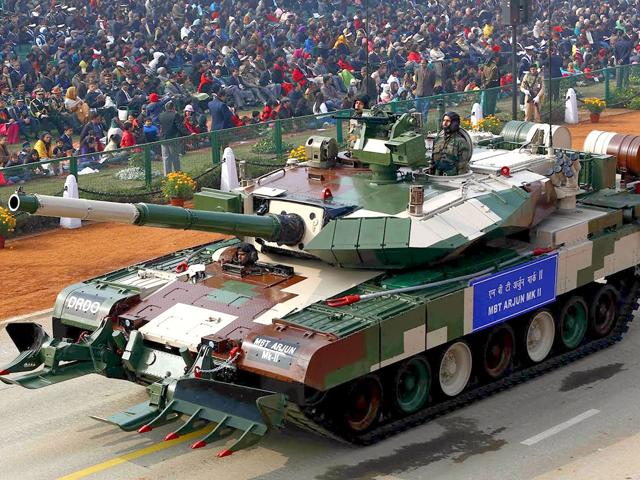 The development comes at a time when the defence ministry has set the ball rolling for buying 118 Arjun Mk-2 tanks at a cost of more than Rs 6,600 crore.
The tank developed by the Defence Research and Development Organisation (DRDO) is an upgraded version of the Mk-1 variant, 119 of which have been inducted in the army.
One of the most significant upgrades proposed in the new tank is its missile-firing capability.
However, the failure of the laser homing anti-tank (LAHAT) missile, manufactured by the Israeli Aerospace Industries, will seriously hinder the ongoing project as the DRDO will now have to work on an indigenous missile that can be fired from the tank.
In an exclusive interview to HT, DRDO chief Avinash Chander said, "The LAHAT missile doesn't figure in our plans anymore. We are dropping it. We have been working on a tube-launched anti-tank missile, which hopefully can be configured for the tank's cannon."
The Mk-2 variant is supposed to have nearly 80 improved features over the previous version, including more than 15 major technology upgrades.
Chander said the LAHAT missile did not meet the army's requirements of engaging targets at ranges of less than 1,200 metres. It has an effective range of 6,000 metres.
The major improvements on the new tank include better firepower, integrated explosive reactive armor, advanced laser warning and countermeasure system, a mine plough, a remotely-operable anti-aircraft weapon, advanced land navigation system and enhanced night vision capabilities.
However, the army may not be able to fully exploit the tank, powered by a German engine, as it is too heavy at 67 tonnes.
The Mk-2 may be hailed as an Indian-made tank but it represents barely 36-38% indigenisation, compared to 60% on the Mk-1. "The indigenous quotient has fallen because the major improvements over Mk-1 required imports," the DRDO chief said.
The army raised its maiden armoured regiment equipped with Arjun Mk-1 tanks in May 2009, more than 35 years after the project was conceived. The Arjun was earlier plagued with problems concerning its fire control system, suspension and poor mobility.
Currently, Russian T-90s and T-72s are the mainstay of India's tank fleet.