Jayalalithaa shuts down 500 liquor stores in Tamil Nadu on first day as CM
Hindustan Times |
, Chennai
KV Lakshmana
May 24, 2016 12:22 AM IST
The chief minister signed orders to provide 100 units of free power every two months, a loan waiver for farmers, gold for girls and the imposition of prohibition.
Tamil Nadu chief minister J Jayalalithaa started her first day in office on Monday by working towards fulfilling her electoral promises, including shutting down 500 government-run liquor shops, waiving farmer's crop loans and free units of electricity to consumers.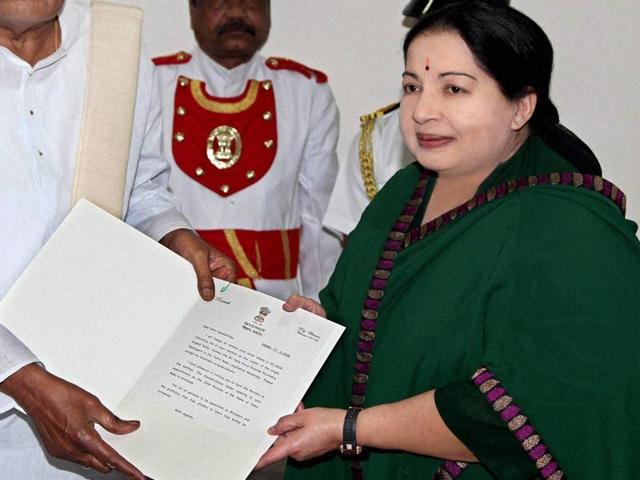 Jayalalithaa got down to work almost immediately after taking the oath of office by signing five files that put in motion certain policies from the party manifesto.
The AIADMK supremo, who was sworn in along with 28 cabinet members, announced that Tamil Nadu State Marketing Corporation (Tasmac) liquor outlets will now open at 12pm and close at 10pm. Earlier, the shops opened at 10am and shut at 10pm.
Read | Jayalalithaa sworn in as Tamil Nadu CM for a second consecutive term
Tasmac is a company owned by the Tamil Nadu government, which has a monopoly over wholesale and retail vending of alcoholic beverages in the state. It also controls the Indian Made Foreign Liquor (IMFL) trade in the state.
The other measures towards a phased prohibition would also include the closure of shops attached to bars. As part of the drive, alcohol deaddiction centre would also be opened. The goal eventually is total prohibition, but it would be achieved in a phased manner, a government press released stated.
The other decisions taken by the AIADMK chief include free 100 units of power every two months and increasing gold allocation from 4 to 8 grams for women from weaker sections. The files also included supplying an additional 550 free units of power for two months to handloom weavers who already receive 200 units.
In a stellar mandate by the Tamil electorate, Jayalalithaa beat arch rival M Karunanidhi and his Dravida Munnetra Kazhagam (DMK) party to win 134 of the 234 assembly seats.
Read | Tamil Nadu CM Jayalalithaa promises phased prohibition if re-elected
Governor K Rosaiah administered the oath of office and secrecy to the party chief and other members of the ministerial council at a grand ceremony at the Centenary Hall of the Madras University, the same venue Jayalalithaa was sworn in as chief minister the first time in 1991.
It was also the venue for her swearing in after her 2011 victory when she was acquitted by the Karnataka high court in the assets case.
Though exit polls predicted that the DMK will win the elections, it only managed 98 seats in the recently-concluded polls. The state has swung between the DMK and incumbent AIADMK since 1972, a trend that pointed to Jayalalithaa's party's loss this time.