Jayalalithaa sworn in as Tamil Nadu CM for a second consecutive term
Updated on May 23, 2016 02:17 PM IST
In a stellar mandate by the Tamil electorate, Jayalalithaa beat arch rival M Karunanishi and his DMK party to win 134 of the 234 assembly seats.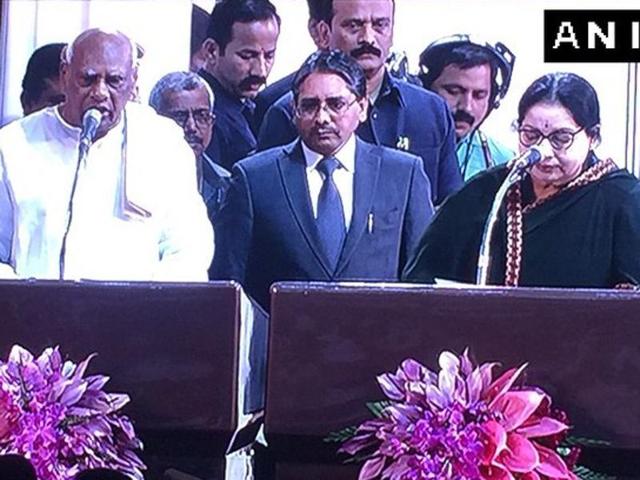 It was on May 23, 2015, that AIADMK chief J Jayalalithaa was cleared in a disproportionate assets case that had plagued her political career and disrupted her stint as Tamil Nadu chief minister.
However, on this May 23, Jayalalithaa was sworn in for a sixth time, but more importantly for a second consecutive term, a feat achieved only once before by none other than her mentor and party founder, MG Ramachandran.
Tamil Nadu election results: In maps
Jayalalithaa's swearing-in ceremony in Chennai: As it happened
List of ministers in Jayalalithaa cabinet
1. Jayalalithaa - chief minister; minister in charge for public, IAS, IPS, IFS, general administration, district revenue officers, police and home
2. O Panneerselvam - finance, personnel and administrative reforms
3. Edappadi K Palaniswami - highways, public works, and minor ports
4. Sellur K Raju - cooperation and labour
5. Thangamani - electricity, prohibition and excise
6. S Valarmathi - backward classes and minority welfare
7. V M Rajalakshmi - adi dravidar and tribal welfare
8. M Manikandan - information and technology
9. MR Vijayabhaskar - transport
10. VP Velumani - municipal administration, rural development and implementation of special programme
11. OS Manian - handlooms and textiles
12. Udumalai Radhakrishnan - housing and urban development
13. C Vijayabhaskar - health and family welfare
14. SP Shanmuganathan - milk and dairy development
15. D Jayakumar - fisheries
16. Dindigul Srinivasan - forest
17. Kadambur Raju - information and publicity
18. R B Udayakumar - revenue
19. P Benjamin - school education, sports and youth welfare
20. Vellamandi N Natarajan - tourism
21. CV Shanmugam - law, courts and prisons
22. KT Rajenthra Bhalaji - rural industries
23. K C Veeramani - commercial taxes
24. K P Anbazhagan - higher education
25. Dr V Saroja - social welfare, nutritious noon meal programme
26. KC Karuppannan - environment
27. MC Sampath - industries
28. R Kamaraj - food, civil supplies and HR&CE
29. R Duraikannu - agriculture and animal husbandry

12:30pm:
-Jayalalithaa's cabinet has 13 new faces and includes 4 women including Jayalalithaa

12:25pm:
-Tamil Nadu has a 29 member cabinet including Jayalalithaa.

12:20pm:
-14 more ministers takes oath together.

12:15pm:
-14 ministers take oath in group.

12:10pm:
- Tamil Nadu governor Rosaiah presents a flower bouquet to chief minister Jayalalithaa.

12pm:
- J Jayalalithaa takes oath as chief minister for a second consecutive term.

11:55am:
- AIADMK supporters are celebrating in Chennai.
11:50am:
- Jayalalithaa leaves from her residence for Madras University where she will be sworn-in as CM.
In a stellar mandate by the Tamil electorate, Jayalalithaa beat arch rival M Karunanishi and his DMK party to win 134 of the 234 assembly seats.
Governor K Rosiah administered the oath of office and secrecy to the party chief and a 28-member strong ministerial council at a grand ceremony at the Centenary Hall of the Madras University, the same venue Jayalalithaa was sworn in as chief minister the first time in 1991.
It was also the venue for her swearing in after her 2011 victory when she was acquitted by the Karnataka high court in the assets case.
Also Read | Analysis: Jayalalithaa's challenge is to foot Tamil Nadu's bill
Jayalalithaa had invited Prime Minister Narendra Modi to the oath-taking function after her win. Reports earlier said that Union Parliamentary Affairs Minister M Venkaiah Naidu will represent the Centre at the swearing-in ceremony of AIADMK supremo, but he was not present at the event.
Invitations had also gone out to DMK supremo M Karunanidhi and his son MK Stalin, as MLAs.
Stalin attended the ceremony, a first time the opposition made a presence at the event.
The centenary auditorium of the Madras university, that seats 3,200 people, was overflowing with party workers, supporters and well-wishers.
Given the turnout, the road leading to the university on the beach road was cordoned off to ensure smooth movement of vehicular traffic.
The ceremony was live streamed on television and on the internet, giving access to people from across the state and outside a chance to witness the ceremony. LED screens were put up at different places in the state, barring Thanjavur and Karuru, which will have re-elections three weeks from now.
Meanwhile, thousands of people thronged the Poes Gardens residence area to greet and bless their beloved 'Purutatchi Thalavi', as she is also known. Priests were also present outside her house with a Poorna Kumbham, a pitcher with auspicious significance used in religious ceremonies.
Full Coverage: Assembly Elections 2016
Close Story
Personalise your news feed. Follow trending topics