JNU fire spreads: Pro-Afzal Guru, 'azadi' event at Jadavpur University
Updated on Feb 17, 2016 07:32 AM IST
Students of Jadavpur University on Tuesday took out a torch rally and shouted slogans against hanging of Parliament attack convict Afzal Guru.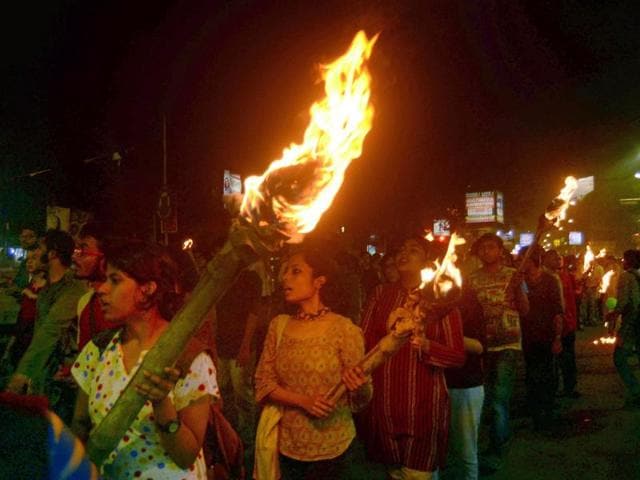 Students of Jadavpur University on Tuesday took out a torch rally and shouted slogans against hanging of Parliament attack convict Afzal Guru.
The students, affiliated to various Left parties, took to the streets on Tuesday to protest the alleged police atrocities inside the JNU campus.
During Tuesday's rally, a placard supporting Afzal Guru was briefly held up by students before others from the crowd quickly intervened and pulled it down.
A number of slogans — like Jo Kashmir Mange Azadi, Jo Manipur ne Manga Azadi and 'Jo Ishrat ne Manga Azadi' — were also raised at the start of the rally before being hushed up by the student leaders.
All India Students Association (AISA) leader Anumita Mitra justified the slogans saying these only questioned the lack of transparency in Afzal's trial and his subsequent death penalty.
"The slogans demand azadi from making Indian laws like khap panchayat.
"If slogans protesting against the branding of scholars like Rohith Vemula as anti-national and terrorist by the Modi government for challenging cast exploitation are anti-national, then we are all anti-nationals," said Mitra, a third year student.
However, Nirjhar Mukhopadhay, another student leader who was at the forefront of the rally, blamed "some fringe elements" for the slogans raised supporting Afzal Guru and Geelani.
"Various types of people are present at rallies. Some fringe elements gave these slogans. But that does not reflect the stand of the majority of students. They don't reflect my opinion."
But he admitted that he had said: "Kashmir mange azadi/Manipur mange azadi".
"Please let me tell you in what context I have said that. We all love our country. 'Azadi' for us signifies freedom from atrocities, atrocities of the Modi government, and freedom from intolerance," he added.
Sarnendu Barman, general secretary of the Faculty of Engineering and Technology Students' Union (FETSU), said that although they did not support slogans like 'Pakistan zindabad', police atrocities on the students inside the campus could not be tolerated.
Barman said that since Jadavpur University has had bitter experiences of police atrocities inside the university campus, they can easily relate to the JNU terror.
"Rashtriya Swayamsevak Sangh (RSS) workers sent police in the JNU campus in the name of a raid, following which the students were heckled regardless of their gender and thrown out of their dorms." Barman added.
Elsewhere, in Jammu students belonging Akhil Bhartiya Vidyarthi Parishad, the student wing of RSS, took to the streets on Tuesday stating that anti-India slogans by JNU students could not be tolerated.
In Osmania University, Hyderabad, ABVP activists staged a protest march dubbing JNU as an anti-national university.
The Joint Action Committee of students — formed in Mumbai University after suicide of Rohith Vermula, a dalit student of Hyderabad University — on the other hand came out in support of JNU students and wore black bands to show their anger. "Students who have questioned capital punishment and hanging of Afzal Guru are being questioned by pseudo nationalists," the action committee said in a statement.