PM promises to 'change' lives of tribals, Dalits with 'Stand up India'
Apr 06, 2016 04:09 PM IST
Prime Minister Narendra Modi on Tuesday promised he will "change" the lives of Dalits and tribal people by giving them cheap bank loans and opportunities for growth.
Prime Minister Narendra Modi promised on Tuesday to "change" the lives of Dalit and tribal people with cheap bank loans and growth opportunities in an apparent attempt to win over crucial vote banks before the 2017 Uttar Pradesh polls.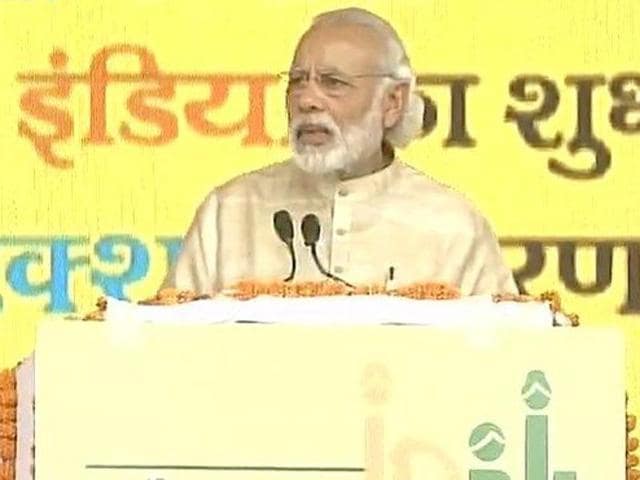 "Change is coming to my Dalit and tribal brothers and sisters. They will prosper and progress," said Modi at a public rally in Noida to launch Stand-Up India, a scheme to promote entrepreneurship among women, Dalit and tribal people.
Modi challenged the Opposition's charge that his government was pro-corporate and said the entire NDA administration was dedicated for the welfare of the poor.
Modi announced each bank will have to sponsor a Dalit or tribal person with cheap bank loans--a scheme he announced on August 15. He also handed over 5,100 e-rickshaws, radios and loans to beneficiaries.
The PM's outreach to the Dalit community and his decision to launch the flagship scheme from in Uttar Pradesh is significant because the state goes to the polls in 10 months.
Dalit people comprise 21% of the state's population – the highest share among all states – and the BJP needs their support if it has to grab power in the politically significant state.
Stand-Up India will also underscore the NDA's focus on women welfare as most of the loans under the new scheme would be earmarked for women and Dalit people.
Uttar Pradesh has India's largest assembly strength and sends the maximum MPs to the Lok Sabha. The BJP swept the state in the 2014 assembly polls, winning 71 of the 80 seats, but has stumbled in a series of bypolls and local body elections.
The Dalit community has traditionally supported the Bahujan Samaj Party but many members of the marginalized section voted for the BJP during the general elections in 2014.
The PM's outreach comes a fortnight after he laid the foundation stone for a memorial for BR Ambedkar in Delhi, where he had hailed the Dalit icon as a champion for women and labour rights.
In an apparent comparison to previous Congress regimes, the PM said earlier the finance ministry only catered to share markets and their representatives. "But now, one after another pro-poor scheme is churned out by the finance ministry. They are working only for the poor people."
As Modi spoke about the benefits of micro-financing for the poor, he also took an apparent jibe at liquor baron Vijay Mallya, who recently left the country amid increasing pressure to repay loans. "The country has seen the bankruptcy of rich people. After taking loans worth crores of Rupees from banks, they try to find ways to run away."
Modi also said banks were nationalised to benefit people "but after 70 years of independence, 40% people still did not have bank accounts."