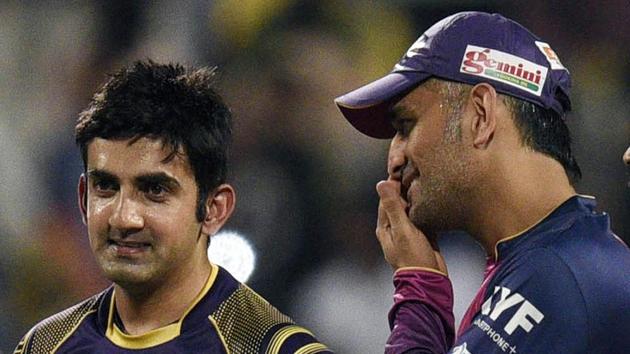 Gautam Gambhir slams Mahendra Singh Dhoni's critics ahead of KKR v RPS IPL clash
Gautam Gambhir, Kolkata Knight Riders captain, has said one should not forget what Mahendra Singh Dhoni has done for the Indian Cricket and in the Indian Premier League (IPL) before writing him off on the basis of a few bad performances.
UPDATED ON APR 26, 2017 01:38 AM IST
Mahendra Singh Dhoni's indifferent batting form in the ongoing Indian Premier League had raised some concerns whether the former India captain still had the ability to provide momentum at the finish for Rising Pune Supergiant.
(Read | Rising Pune Supergiant eye home comforts vs Kolkata Knight Riders in IPL 2017)
His struggles in the initial matches for Rising Pune Supergiant led to former India skipper Sourav Ganguly doubting his T20 credentials. However, his match-winning, unbeaten 61 against defending champions Sunrisers Hyderabad here on Saturday won him many accolades.
Gambhir takes on Dhoni critics
Kolkata Knight Riders skipper Gautam Gambhir not just praised Dhoni on the eve of Wednesday's clash against RPS, he also blasted critics who wrote off champions on the basis of a few bad performances.
(Read | IPL 2017: Kolkata Knight Riders responded after my 'threat')
"There is no one like a finisher or a starter. Ultimately, the one who scores the winning run is a finisher, irrespective of whether he's an opening batsman or No 11. What matters is how much you are contributing. If you can win matches for your team, you are a finisher," Gambhir told reporters ahead of KKR's match against Rising Pune Supergiant at the MCA Stadium here.
Dhoni's struggle versus MI
After his whirlwind knock on Saturday, Dhoni again found the going tough, eating up 10 balls for his seven runs on Monday against Mumbai Indians on the slow Wankhede Stadium pitch. However, RPS bowlers, led by Ben Stokes, helped pull off a three-run win in the end.
(Read | For Rising Pune Supergiant finisher MS Dhoni, 'no required rate too high')
"Here (in India), we start criticising if someone has one or two bad matches. He (Dhoni) is a quality player and we all know what he has done for India and the IPL. It is an important game, and rather than thinking what he can do, I think what KKR will do is all that matters," added Gambhir, who played crucial knocks under Dhoni's captaincy in the finals of the 2007 World Twenty20 and the 2011 World Cup.
Wary of RPS' collective strength
The KKR skipper is wary of the threat Rising Pune Supergiant pose as there is no one dominating player in Steven Smith's side.
"That is very good for the team because if everyone is contributing, it is a great sign for any team. And that is what we want in KKR as well. We don't want to be dependent on one or two people; we want to be dependent on everyone. If everyone starts performing, starts chipping in, because in the T20 format, there will be players who would end up getting one or two important wickets and there will be people who will get 10-ball 20.
"So those teams are obviously far more dangerous than the teams who are dependent on one or two individuals because it's not assured that one or two individuals are going to perform in every game, but there is far more assuredness of 11 individuals chipping in, in important situations. If Pune is doing that then it is a great sign for the team," said Gambhir.
Close