Durgapur barrage runs dry after lock gate breaks, township faces water scarcity
Hindustan Times |
, Midnapore
Koushik Dutta
Nov 25, 2017 03:45 PM IST
The township with 5.22 lakh people and industrial units such as Durgapur Steel Plant are dependent on the barrage for water supply.
The industrial township of Durgapur went dry after Durgapur barrage on the Damodar river became dry following a leaking lock gate of the barrage.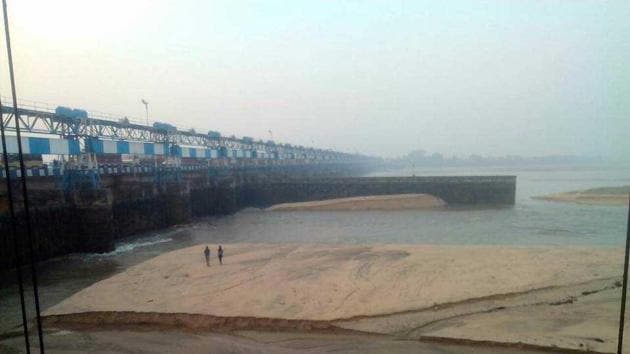 The irrigation department started repair work on an urgent basis and hoped that they will be able to restore normalcy by Sunday, even as the residents said they have never seen the barrage running completely dry.
Read: HT Exclusive: 7 Marathwada dams run dry; experts point to flawed plan
"The lock gate is being repaired on a war footing. We will fill the barrage within seven-eight hours with water from the nearby Maithon dam after repair work is completed," claimed irrigation minister Rajib Banerjee.
"Water from the barrage is used for domestic and industrial purposes. On Friday, the Durgapur civic body announced that there will be no water on Saturday. We saved some water, but I am not sure how long it will take for the supply to become normal," said Dipak Barik, a resident of Durgapur.
The Durgapur barrage was built in 1955. It is 692 m long and has 34 gates including 2 under-sluice gates. It is a 12 metre high barrage.
Located about 170 km from Kolkata, Durgapur is a planned township with a population of 5.22 lakh (2011 census).
Read: Google doodle for Rukhmabai Raut, but India's first woman doctor Kadambini Ganguly remains forgotten
"If the gate is not repaired immediately, industry will suffer too. All the units in this industrial area dependent on the water from the Damodar river," said Rajendra Prasad Khaitan, the working president of Federation of South Bengal Chamber of Commerce and Industries. Durgapur Steel Plant is the biggest industrial unit in the region.
Nibedita Datta, a homemaker from Durgapur said she has never faced such a problem even during the height of summer.
"Repair work is going on. We are in constant touch with the engineers of the Irrigation department," said Sankha Santra, sub divisional officer of Durgapur.
Water may be scarce in Durgapur town and adjoining areas in the next few days. Even power generation may be affected as the power units are dependent on this water.
"We are in talks with Asansol Municipal Corporation and district administration to provide water tankers in the area to supply drinking water," said Dilip Agasthi, the mayor of Durgapur.
After the repair work is done, water from Damodar Valley Corporation's Maithan and Panchet dam may be used to sill up the Durgapur barrage again.
The lock gate broke on Friday morning. Locals alleged the accident was due to poor maintenance work.