I knew I was going to have to work a thousand times harder: Kal Penn
Penn, star of slacker comedies and lilting hits such as The Namesake, opens up (and comes out) in his new memoir. The book is clever, courageous and comedic. Excerpts from an interview.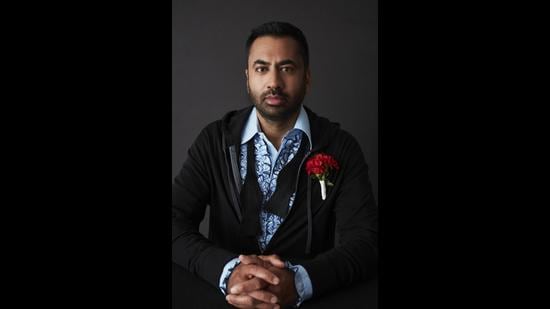 Updated on Dec 17, 2021 10:55 PM IST
Kal Penn's breakout role came in Harold & Kumar Go to White Castle, a stoner comedy where he induced such mirth even when just pacing a few steps behind his Asian friend, fretting about their newest misadventure and saying over and over: "Roldy, Roldy, Roldy…".
The 2004 hit sparked a series, all starring him and John Cho, but alongside Penn also acted with Irrfan Khan and Tabu in Mira Nair's The Namesake (based on the book by Pulitzer Prize winner Jhumpa Lahiri), spent two years in the White House as associate director at the Office of Public Liaison, lectured in sociology and wrote a book.
Born Kalpen Modi, to Gujarati immigrant parents in New Jersey, his recently released memoir is titled You Can't Be Serious. It's self-deprecatingly funny, and it's also where he announced to the world that he is gay and engaged to his partner of 11 years. Excerpts from an interview.
As a child of immigrants, a person of colour in Hollywood, a gay man in America, your life mirrors so many of the conflicts being talked about and navigated anew in the US. What has it been like for you?
My story's a bit different from the character I played in The Namesake, Gogol. He, as the kid of immigrants, felt like he had one foot each in two different worlds. I grew up in a predominantly white New Jersey, but within that whiteness, there were other communities like Polish, Italian and Jewish. So just like we spoke English and Gujarati at home, friends of mine spoke English and Italian or English and Polish. So I never felt like there was any identity conflict in my life.
The conflict that I remember feeling was when I said that I wanted to be an actor, and had people tell me I couldn't do it. It was almost as if there wasn't support from our community at the time. The disapproval came from fear which came from the idea that this wasn't something that we could actually do.
Why a memoir now, at 44?
I thought, what would the 25-year-old me have wanted to read? When I was in college, I remember going to see a Black actress in a moderated conversation organised by the Screen Actors Guild. Someone in the audience asked her how she dealt with rejection based on the colour of her skin. Going to these kinds of talks gave me a toolkit to navigate the space, navigate rejection. I knew I was going to have to work a thousand times harder than anybody else because of the colour of my skin. That was the reality back then. Thankfully, it's changed so much. So the book to me is more about that journey, and the journey of how systems and people can change.
Also, growing up you were told you could only pick Arts, Commerce, Science, go to medical school or law school. Now people have multiple interests and you're encouraged to balance it all out. So I thought, my story is that story. It's the story of acting in ridiculous stoner movies, but then also working at the White House. So if my experience in viewing the world through multiple passions can resonate with somebody through my book, why not write it now?
As someone who has made millions laugh, how do you see the role of comedy in today's world?
I really love that comedy can bring people together. I think about the Harold & Kumar movies. That's a comedy that's about friendship, and the friendship is why the comedy works. So in a world that is so incredibly polarised now, with people yelling and screaming at each other whether on Twitter or in real life, and your chacha (uncle) sharing something that is not real, when they come over to your house, you can still watch a comedy show together. To me, there's such magic to that. One of the things that we all still have left that brings us together is laughter.
Your book has some hilarious passages about family, and desi families in particular...
My parents are wonderful, and they've been so supportive of everything over the years. There's a story in the book I find very funny, because it's, quintessentially, every Indian dad. I remember bringing my parents backstage at Obama's inaugural concert. Everyone participating was there. I told my dad, there are going to be a lot of famous people, and if you want to talk to somebody or want a picture with somebody, just tell me and I'll introduce you; don't just go up to people and start taking pictures.
My dad was so offended. He said, I know people do this to you and it's really annoying; I would never do that to somebody else! So we go there and I'm putting my stuff down and I turn around and Dad is gone. I find him at the other end of the tent, with his camera out. And he's taking pictures of Tiger Woods with a flash! I said, you agreed with me that people shouldn't just walk around taking pictures of other people. And my dad goes, "Yeah, but that's Tiger Woods." Like I'm an idiot for not understanding.
What advice do you have for young people who may live on the margins or are struggling with conflicts of identity?
I think each person is beautifully, wonderfully different and that's what's so nice about everyone's own story. I think it's great when people can share their own intersectionality. I'm so glad I live in a time when people can share their unique stories.
Enjoy unlimited digital access with HT Premium
Subscribe Now to continue reading
Close Story
Personalise your news feed. Follow trending topics