Milind Soman urges fans to eat seasonal fruits in new fitness post, here's why
Published on May 29, 2021 02:58 PM IST
Milind Soman and Ankita Konwar are urging fans to eat seasonal fruits in their new post. Milind calls fruits "the food of the gods," and asks people to,"choose wisely what, when and how much to eat."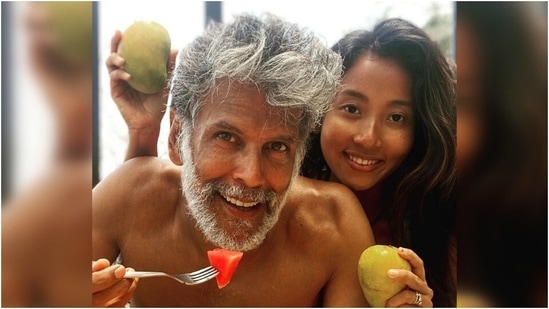 This week's clean and healthy eating inspiration is coming from Milind Soman. The fitness enthusiast who is known for staying active and exercising whenever he gets a chance is also an advocate of clean eating. The actor often shares glimpses from his meals and seasonal fruit eating time on his social media. Not long ago, Milind also revealed everything that constituted his daily meal plan which was further proof of the actor's love for seasonal fruits.
His recent post is also quite similar. Milind posted a new image in which he and his wife Ankita Konwar can be seen smiling for the camera. If you look carefully, you will see that in the picture, the supermodel is about to indulge in some delicious watermelon, whereas, Ankita is holding two fruits in her hands, one of which is a mango. In the caption, the actor also explained the importance of consuming seasonal fruits and their benefits.
It read, "#Fruits #fruits #fruits ! The food of the gods as Hippocrates said more than 2000 years ago, and Ayurveda said a thousand years before him, "food is medicine and medicine is food". Choose wisely what, when and how much you eat.. eat for a better mind, body and spirit, not just for your tongue #health (sic)."
ALSO READ: Milind Soman reveals what fitness means to him: It's more than six packs, biceps
That is not all, when Milind Soman was fighting Covid-19 last month, he was eating seasonal fruits even then and shared how he felt after eating first mangoes of the season.
Have a look at some of the other fitness posts that the actor has shared in the past urging people to stay active:
Do you agree with Milind Soman? On the work front, he was last seen in the web series Paurashpur. The actor was applauded for the way he portrayed the role of a transgender.
Personalise your news feed. Follow trending topics