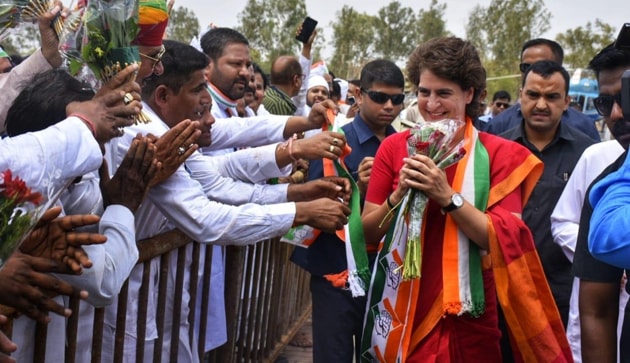 Modi attacks Rahul Gandhi, Priyanka calls PM anti-tribal
At Ratlam, Priyanka Gandhi Vadra exhorted the largely tribal audience to vote carefully and bring a party to power that gives them strength and attacked the BJP for "snatching tribal rights".
UPDATED ON MAY 13, 2019 11:56 PM IST
Congress general secretary Priyanka Gandhi on Monday attacked Prime Minister Narendra Modi for being anti-tribal and suppressing their rights.
Addressing a public meeting in Ratlam, about 300 km west of Bhopal, she attacked Modi hours after he had held a public meeting in another part of the city.
This was Priyanka's first visit to Madhya Pradesh during the current Lok Sabha elections.
The Ratlam Lok Sabha seat, reserved for tribals, consists of tribal districts of Alirajpur and Jhabua along with Ratlam district, goes to polls on May 19.
She declared that "attacking the tribal is like attacking the soul of India" as she exhorted the largely tribal audience to vote carefully and bring a party to power that gives them strength.
Recalling the affection that her grandmother Indira Gandhi had for tribals she said, "When we were children she used to bring small toys made by tribals and tell us how you live and preserve the forests, animals and land. She used to say that the tribals were the most forward when it came to protecting the environment".
"I have learnt from her (Indira Gandhi), I am her granddaughter, and I will safeguard you," she promised.
Elaborating how the BJP was snatching tribal rights, she accused Modi of diluting the provisions of the Forest Rights Act that had been passed when the UPA was in power, Priyanka said, "Nearly 60 per cent of the claims of tribals have been rejected."
She also took Modi to task for his alleged role in circumventing the Land Acquisition Act and handing over land to industrialists. "When we prevented Modi for diluting Act in Parliament, he made the BJP-ruled states amend the rules," she said.
Hitting out at Modi for saying that he was a 'tapasvi', Priyanka said unlike a real 'tapasvi', Modi's pride has not gone. "He has no time for farmers and the youth. He has time only to roam around the world and meet top leaders. He only communicates through public rallies and he never bothered to visit even a single home in his Varanasi constituency."
Priyanka said that Modi's promise of 20 million jobs a year was a sham as was his promise to bring black money back home with demonetization for which the people were made to stand in queues.
"No black money came and 50 million jobs were lost due to demonetization," she said.
She also accused Modi of making MGNREGA, the flagship scheme of the UPA government, weaker and did not provide sufficient employment in rural section. She promised a better MGNREGA with 150 days of jobs for every rural household, and 24 lakh jobs for youth in government sector.
Priyanka also highlighted the benefits of the Nyay scheme and compared it with BJP's Kisan Samman Yojana. "BJP's scheme will only give you Rs 2 per day and it is not a samman but 'apaman' (insult) for farmers," she said.
Close