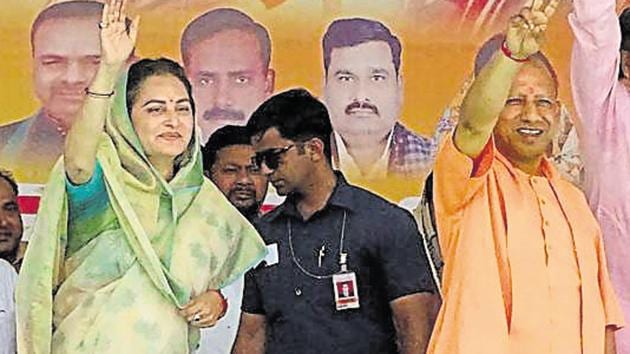 Lok Sabha Elections 2019: Yogi Adityanath attacks Congress chief Rahul Gandhi, SP ahead of 3rd phase polling
Addressing a series of election rallies in Uttar Pradesh on Sunday, Adityanath alleged that the Congress chief calls himself 'Raul Vinci' in Britain and Italy though in India he becomes "Rahul Gandhi."
UPDATED ON APR 22, 2019 09:43 AM IST
The BJP on Sunday upped the ante against Congress chief Rahul Gandhi with Uttar Pradesh chief minister Yogi Adityanath saying that the real names of Rahul and Priyanka Gandhi Vadra should be known to the country.
Addressing a series of election rallies in Rampur, Nighasan, Sawayajpur, Bagiya, Ghatampur and Kanpur on Sunday, Adityanath alleged that the Congress chief calls himself 'Raul Vinci' in Britain and Italy though in India he becomes "Rahul Gandhi."
Adityanath's remark comes a day before the Congress replies to accusations by four independent candidates from Amethi against Rahul Gandhi.Independent candidates Afzal, Suresh Chandra, Dhruv Lal and Suresh Kumar Shukla on Saturday raised objections over Gandhi's candidature from Amethi, alleging discrepancies in citizenship and academic qualifications in the election affidavit filed by the Congress president.The Congress dismissed the allegations as a BJP conspiracy.
"These allegations have been levelled in the past and probed even by non-Congress governments. Frivolous charges by non entities are one thing, but it's shameful of senior leaders to stoop so low. But one expects such things from the BJP," said Congress leader Hilal Naqvi.
Urging Gandhi to clear the allegations around his 'real name', Adityanath said in the Sunday's rallies, "I am surprised to know that the Congress leader known as Rahul Gandhi is Raul Vinci. I feel that the Congress should clear the air on the issue and the real names of Rahul and Priyanka Gandhi should come before the people."He also targeted the Congress leadership over its temple run.
"When he (Rahul Gandhi) comes to UP, he visits temples and is marketed as a 'janeu'-wearing Hindu but when he goes to Kerala, he is amid flags with moons and stars and appeals to people to vote for him," Adityanath said.
"This hypocrisy connects the Congress with traitors," he said in Lakhimpur Kheri. Adityanath also targeted the Samajwadi Party and said hooliganism was at its peak under SP rule.
"It was common knowledge (during SP rule) that, if a car had a SP flag on it, a hooligan was inside," he said in Rampur where the BJP's Jaya Prada is up against the SP's Azam Khan.
"The anti-Romeo squads in UP were formed for people like him," Adityanath said, targeting Khan for the "khaki underwear" remark on Jaya Prada.
He said Azam Khan had insulted half the population by making such a crude remark on Jaya Prada and wondered why Mayawati and Akhilesh Yadav were silent.
Taking a dig at the opposition, he said, "Those who had doubts on the existence of Ram and Krishna have now become the devotees of Bajrang Bali today after seeing the power of Bajrang Bali."
"You tell me if you want a government that calls Hindus terrorists and insults Baba Saheb Ambedkar?" he asked.
After his Rampur rally, Adityanath tweeted that it's a matter of shame that the people's representative from a city whose name has lord Ram, doesn't respect women. This is not about Jayaprada alone for Azam Khan has insulted all women and Rampur would give a befitting answer to this.
Close