Development, nationalism eclipse Ram temple issue in Ayodhya
According to residents of the temple town, the Ram Ki Paidi ghat went into complete renovation after the Bharatiya Janata Party (BJP) formed the government in Uttar Pradesh in March 2017.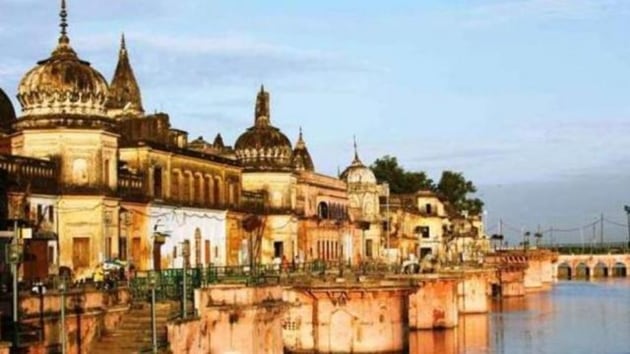 Updated on May 03, 2019 01:30 PM IST
As one moves towards Ram Ki Paidi ghat in Ayodhya, one realises the difference between the present day temple town and what it was three years ago.
Not only the ghat is clean but the road leading to it is well constructed.
According to residents of the temple town, the Ram Ki Paidi ghat went into complete renovation after the Bharatiya Janata Party (BJP) formed the government in Uttar Pradesh in March 2017. Earlier, the ghat was a 'no go zone'. "Now, Ram Ki Paidi has become a favourite point for locals. People of all age groups come here in the evening," said Sanjeev Kumar, 37, who prefers to spend the evenings at the Ram Ki Paidi.
"Ayodhya was a neglected town before the BJP formed the government in the state. But situation has changed now. Lot of development work has taken place here," claimed Kumar, when asked about poll issues in Ayodhya.
On Ram Temple issue being put on the backburner in this election, Kumar said: "You ask anyone in Ayodhya whether he wants Ram Temple or not, his answer will definitely be 'yes'. But it is not the rallying point for voters in Ayodhya this election."
In this hot-bed of Hindu politics, issues like development and nationalism have taken precedence over Ram Temple.
BJP BANKING ON DEVELOPMENT
Large scale construction work is going on at the Ayodhya railway station. The Narendra Modi government has promised to transform this non-descript railway station into a world-class station.
Ram Naresh, 51, who is busy serving sugarcane juice to his customers from his improvised machine attached with a motor, said: "The Yogi government has done lot of work in Ayodhya. People are satisfied. So what if temple has not been constructed till date? At least, the Modi government is making efforts in the right direction."
Campaigning for the Lok Sabha election is in full swing in Ayodhya but the famous slogan of the '90s, 'Mandir wahin banayenge' is missing.
Even BJP candidate Lallu Singh, who is seeking re-election from Faizabad parliamentary constituency, is refraining from raising the Ram Temple issue in this election.
"I am contesting this election on development plank and not Ram Temple," said Lallu Singh, who had played an active role in the Ram Temple movement.
SAINTS DISAPPOINTED
However, saints of the temple town are not happy with this change as this is for the first time since the 1990s, when the Ram Mandir took the centre-stage in national politics, that the issue is not a rallying point even in Ayodhya, the birth place of Lord Ram.
Satyendra Das, head priest of the makeshift Ram Temple in Ayodhya, also agree that the issue was missing from election speeches.
"Kaam nikalte hi Ram ko bhool gaye BJP ke log (BJP leaders has forgotten Lord Ram after getting what they wanted)," rued Das.
"Even the BJP candidate Lallu Singh is telling people that he is seeking votes on development being carried out in Ayodhya," he said.
Mahant Nritya Gopal Das, head of the Ram Janmabhoomi Nyas, is dejected over Modi's decision to skip Ram Temple in his address during his first visit to Ayodhya after taking over as PM, on Wednesday.
'NATION FIRST'
A group of people, in the age group of 30-40 years, hanging out at Naya Ghat on banks of river Saryu are discussing politics, the favourite topic during poll season.
"We definitely want Ram Temple in Ayodhya but nationalism seems to have overtaken it this election," said Suresh Chaurashia, 31.
Rajat Chandra, 35, said: "Ram Mandir is still important for the people of Ayodhya and the rest of the country. But in this election, nation is more important."
"The way is which PM Narendra Modi gave a befitting reply to Pakistan after Pulwama terror attack, patriotism is dominating the people's mood," said Awadesh Kapoor, 39.
The Vishwa Hindu Parishad (VHP) has already made it clear that it would desist from raising the temple issue in this election. "Ram Temple issue is in Supreme Court. The court-initiated mediation process is on. We will wait for the court's decision," said Sharad Sharma, regional spokesperson of Vishwa Hindu Parishad.
"This election, development work carried out by PM Narendra Modi and his befitting reply to Pakistan after Pulwama attack are the core issues not only in Ayodhya but nationwide," he added.
The Ram Janmabhoomi Nyas is also refraining from issuing any statement related to the temple issue.
Ayodhya goes to poll in the fifth phase of Lok Sabha election on May 6.
CANDIDATES AND ISSUES
Sitting BJP MP Lallu Singh, who is seeking re-election, is urging people to vote for development projects executed by the Centre and the Yogi Adityanath government in UP.
Anand Sen of the Samajwadi Party, who is the Alliance candidate, is raising the issue of demonetisation, problems being faced by traders due to the Goods and Services Tax (GST), farm distress and corruption.
Congress's Nirmal Khatri is relying on the promise minimum income guarantee scheme (Nyay scheme) announced by Congress president Rahul Gandhi. The Congress has promised Rs 6,000 per month to the poor.
Close Story