Yennai Arindhaal review: Ajith show all the way with little else
Gone are the days of the director in Indian cinema, and nothing can be truer than this in the Tamil industry, where big stars hold audiences in a mesmeric trance. Ajith's latest outing in Yennai Arindhaal is an unmistakable case in point.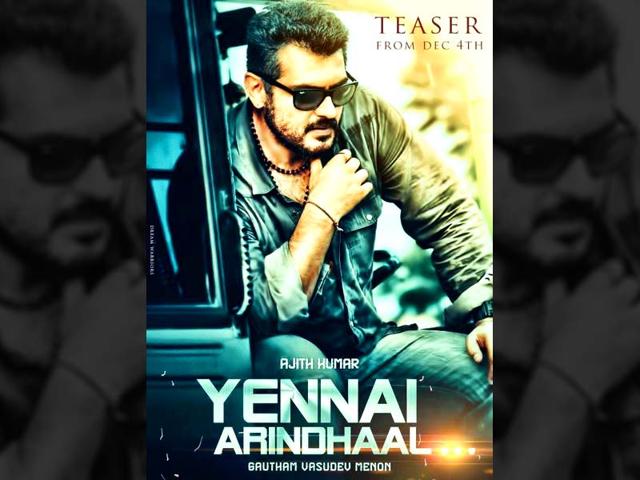 Updated on Feb 07, 2015 04:49 PM IST
Hindustan Times | By Gautaman Bhaskaran
Direction: Gautham Vasudev Menon
Cast: Ajith, Trisha Krishnan, Anushka Shetty, Nasser, Vivek, Arun Vijay, Baby Anikha
Rating: 2/5
Running time: 179 minutes

Gone it seems are the days of the director in Indian cinema, and nothing can be truer than this in the Tamil industry, where a Rajinikanth or a Kamal Hassan or a Surya or an Ajith hold audiences in a mesmeric trance. Ajith's latest outing in Gautham Vasudev Menon's last of the cop trilogy, Yennai Arindhaal (after Kaakha Kaakha and Vettaiyaadu Vilaiyaadu), is an unmistakable case in point.

The audience in the multiplex where I watched this film went into rapturous applause every time Ajith (as policeman Satyadev) slipped into the frame, and not that one time when Menon -- in Hitchcockian style -- appeared. The thunderous claps often made it impossible for me to follow some of the on-screen conversations, and this was in addition to several mutes of expletives -- presumably a compromise for an U.

The movie is certainly not for universal viewing, and the blood and gore accompanied by gun duels, knifing and bouts of fierce wrestling seem to mock the censor certificate.

But who cares? For, Yennai Arindhal is an Ajith show, an actor who has to vanquish villains with a weapon and woo women with a rose. But Menon's vigilante officer in khaki -- worshipped by colleagues, feared by enemies and chased by women (one comes on so strongly that it begins to look painful) -- is a spent hero. Ajith looks not only old and tired, but positively wooden and disinterested playing Satyadev.

While Satyadev follows his murdered father's advice to stay on the right side of law, his adversary, Victor (a delightfully nuanced performance by Arun Vijay), despite a great chance to reform, sinks into organised crime. He steals organs -- not from cadavers alone, but living humans. He is not happy picking just one kidney from a man and letting him live with the other. Victor and his team take both and kill the victim, but when they set their eyes on software executive Thenmozhi (an unimpressive Anushka Shetty), plotting to take her (hold your breath) heart and sell it to an ailing man for a hefty sum of money, Satyadev steps in. Victor had clearly not bargained for this.

Yennai Arindhaal weaves in and out of endless chases, and gun battles between the two men. There are songs, there is the nagging voice-over by Ajit telling us about his dilemmas and then there are two romances -- the first that Satyadev has with dancer Hemanika (essayed with heart-tugging emotions by Trisha Krishnan), and the second with Thenmozhi.

If there is little sizzle in the romances, the scenes between Satyadev and Hemanika's daughter from a failed marriage, Esha (Baby Anikha), are so contrived – a clear example of inept helming.

Arguably, Yennai Arindhal is the most disappointing in the trilogy, with Ajith -- probably pushed and prodded by a huge fan club -- refusing to let go the centre stage. But for all the hype and hoopla, I wish Ajith had perked himself up to do some justice to the policeman he is on screen, albeit one who treats the law as an ass. What is more, the movie is just one more addition to the countless cop dramas. There is just nothing, nothing novel in it that you could have taken home.
ott:10:ht-entertainment_listing-desktop

Close Story