12 years on, Mumbai civic body's plan to reduce flooding not even half done
Mumbai city news: Tenders for some projects to improve drainage capacity of pipelines post the 2005 deluge not yet issued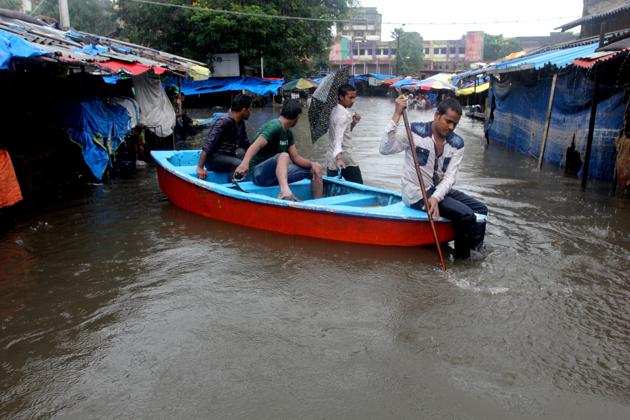 Updated on Jun 18, 2017 01:38 AM IST
While the Brihanmumbai Municipal Corporation (BMC) grapples with complaints of flooding every year, ambitious projects that were planned after the July 26, 2005 deluge are not even halfway done.
After the deluge, the BMC had planned the Brihanmumbai storm water disposal system (Brimstowad) project.
The plan involved eight pumping stations and 58 projects to improve the city's century-old pipelines.
But in the past 12 years, the BMC has finished fewer than half of the projects.
According to civic data, of the 58 projects, planned in two phases, only 28 have been completed, while 27 are still in progress.
The data revealed that the BMC has not even issued tenders for three projects.
There are 11 projects currently in progress in the eastern suburbs, nine in the western suburbs and three in the island city.
The water-receding capacity of the city's drains is about 25-30mm an hour, which will increase to 50mm an hour once Brimstowad is completed.
Of the eight pumping stations, the BMC is yet to inaugurate the Guzderbandh pumping station, which has missed two deadlines — May 31 and June 9.
Two more pumping stations, at Mahul and Mogra, are just on paper. While Mahul is yet to get a environment al clearances to build on salt-pan land, Mogra is stuck in litigation over a property dispute.
Senior civic officials said they are hoping to complete the process as soon as possible.
"The work is dependent on a lot on approvals from other agencies. Till we don't get that sorted, we cannot issue tenders," the official said.
Currently, Haji Ali, Lovegrove and Cleveland at Worli, Irla at Juhu and Britannia at Reay Road are functional. On Monday night, however, when the city received heavy rains, there was a delay in starting operations at Britannia, which would have prevented major flooding at Hindmata, officials said.
That day, the city reported flooding at 41 locations.
The chief engineer of the storm water drains (SWD) department also received a show-cause notice from the additional municipal commissioner for this and for not completing the Guzderbandh pumping station.
Officials from the SWD department said that the station at Guzderbandh has been delayed because the BMC only recently got the Centre's approval to cut mangroves in Khar-Danda.
Close Story