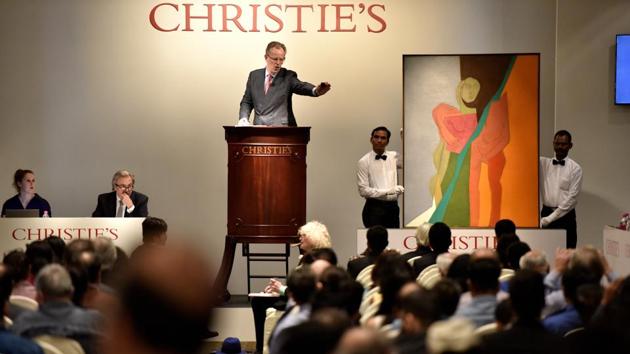 Going, going, gone…Christie's backs out of live auctions in India
The decision to end the live auctions in Mumbai is part of a bigger and broader decision taken for Christie's worldwide
UPDATED ON MAR 17, 2017 12:20 AM IST
There will be no Christie's auction in Mumbai this December, or any December in the foreseeable future.
After four years of live auctions that generated plenty of excitement but dwindling sales, the international auction house has decided to end all brick-and-mortar events in India.
This is part of a scaling back of Christie's operations across centres, an indication that the troubles in the art market are affecting even the biggest players.
It's been almost a decade since the US-led economic downturn of 2008 ended the boom period for the Indian art market, and for art markets around the world.
The smaller galleries were the first to shut; other scaled down operations.
So it was considered a good sign when Christie's announced its first-ever live auction in India, in 2013.Sales were good, records were set and it seemed like India would prove to be where it's at.
The decision to end the live auctions in Mumbai is part of a bigger and broader decision taken for Christie's worldwide, confirmed Christie's India director and specialist head, Sonal Singh.
"We will continue to hold three annual live auctions of modern and contemporary South Asian art between London and New York and also have auctions with classical Indian art in four annual auctions between New York, London and Hong Kong. In addition to this, we plan to explore the online space," Singh added.
The truth is that revenues from the Indian art auctions never matched those from similar Christie's events overseas, says Arvind Vijaymohan of Artery India, a Gurgaon-based art consultancy.
"For instance, the Post-War and Contemporary sales at the Christie's auction in February amounted to Rs469.53 crore — from just 54 works," says Vijaymohan.
By contrast, the highest-grossing live auction in India — the 2015 edition — brought Rs97.69 crore. In 2016, that figure slid to Rs72.16 crore, below even the first edition's Rs75.27 crore. Some collectors had also complained about repetitive collections on the Indian auction scene, including at Christie's events.
"While the Indian market is rife with opportunity, any corporate institution would have to take into account whether their expenditure is being justified. Christie's invested heavily in human resources and promotion. It is likely that the results did not meet corporate expectations," Vijaymohan says.
"Market movements remain cyclical and in the current context, Sotheby's is ramping up its India operations and looking to build an India team," he concluded.
Read
Christie's to hold 4th annual auction on December 18 at Taj hotel in Mumbai
Gaitonde goes for Rs15.63cr at Christie's art auction in city
Close