IIT-B study says flyover on Mumbai's Peddar Road could reduce air pollution
Air pollution levels in south Mumbai's Worli, Haji Ali and Peddar Road could rise by 65% in the next seven years.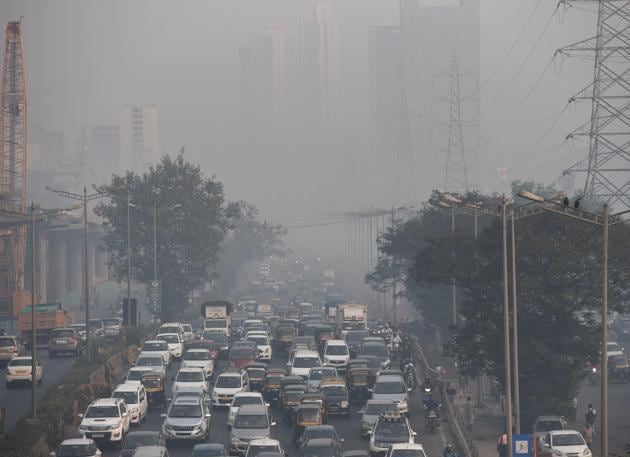 Updated on May 03, 2018 03:13 PM IST
Air pollution levels in south Mumbai's Worli, Haji Ali and Peddar Road could rise by 65% in the next seven years, as more vehicles clog these arterial roads, a study by the Indian Institute of Technology-Bombay has found.
One solution, the study said, is a viaduct or flyover on the road to bring down the congestion — a solution the state government had proposed and then struck down two years ago after opposition by residents of the area.
Using air quality modelling studies, a six-member team from the institute found the levels of oxides of nitrogen (NOx) will increase from 75 micrograms per cubic metre (µg/m3) in 2015, to 124µg/m3 in 2025 and 201µg/m3 in 2035. The annual permissible limit set by the Central Pollution Control Board is 40µg/m3 .
NOx levels are projected to rise to 1.6 times in 2025 and 2.6 times in 2035, against the 2015 levels.
Cars, trucks and power generation plants emit oxides of nitrogen (NOx), of which nitrogen dioxide (NO2) is the most common type. Exposure to NOx affects the human respiratory system severely, while NO2 emissions are harmful especially for people with asthma, children, and the elderly.
The study proposed a viaduct to reduce traffic, as in the area, vehicles are the only major source of air pollution. "No major industries are situated in this area. To reduce air pollution due to traffic, secondary control systems such as selective catalytic systems or oxidizing agent, should be used at the emission source," said Awkash Kumar, the lead investigator, and a former PhD student at the Centre for Environmental Science and Engineering, IIT-B.
"An increase in the density of vehicles is bound to increase NOx levels, which is detrimental to health."
The study recommended the construction of a road viaduct from Haji Ali junction to Marine Drive and Chowpatty as most vehicles on Peddar Road and Tardeo Road go directly to Chowpatty.
"Constructing the Peddar Road flyover, or even an underground tunnel will bring down traffic congestion and pollution by 40% to 50%," said SL Dhingra, institute chair professor, Transportation Systems Engineering, department of civil engineering, IIT-B. "These are the only two ways that will help the situation."
The Maharashtra government had proposed a 4.1km bridge on Peddar Road, from Girgaum Chowpatty to Haji Ali junction in 2000. However, following opposition from residents, including singer Lata Mangeshkar who lives in a building on the road, the state scrapped the plan in 2016.
Dhingra, who was the principal investigator for that proposed viaduct, said he had also suggested congestion pricing for vehicles going towards south Mumbai. "Even then, those roads were choking; it's worse now. It is time the residents become aware and realise that an increase in vehicles and consequent rise in emissions will affect their health more than anyone else."
The study assessed long-term impact of the traffic in terms of NOx, carbon monoxide (CO) and particulate matter (PM) emissions from vehicles by identifying 12 roads around the Worli area, with a large number of vehicles making their way to Marine Drive and Chowpatty drive through Tardeo and Peddar roads every day.
The researchers calculated traffic volume of the road network for 2015, 2025 and 2035, with a growth rate of 5% every year. Vehicular congestion peaked between 10am and noon, and between 7pm and 9pm. Peak-hour traffic, however, was from 6pm to 7pm on the Tardeo road.
The study also found higher traffic congestion during the evening peak hours when compared to the day, with the highest vehicular congestion from Haji Ali to Peddar Road. Of the 12 roads, seven were highly congested during the evenings, and all 12 roads reached their projected capacity in 2025, particularly during peak evening hours.
Barring a projected increase in NOx levels, CO and PM levels were below the permissible limits, but still higher than 2015. While the legal limit for CO is 200ug/m3 for 8 hours, the levels are likely to rise from 2015's 246ug/m3 to 401ug/m3 in 2025, and 653ug/m3 in 2035.
As for particulate matter, whose permissible limit is 60ug/m3, the levels were likely to be 6.1ug/m3 in 2025 and 10ug/m3 in 2035 as compared to 3.8ug/m3 in 2015.
"The reason for low PM levels is because it's not emitted from the vehicle's tail pipe. Whatever PM levels were found was a result of suspension of dust from the road," said Kumar.
The study, titled Prediction and Analysis of Pollution and Congestion Level for Present and Future scenario on an urban road network - India was published in the latest issue of the International Journal for Traffic and Transport Engineering.
Close Story