Make rules to feed migratory birds: Mumbai-based nature conservancy group tells govt
Updated on Feb 28, 2018 12:18 AM IST
Bird lovers are feeding fried food to migratory birds like seagulls, which can impact their migratory patterns.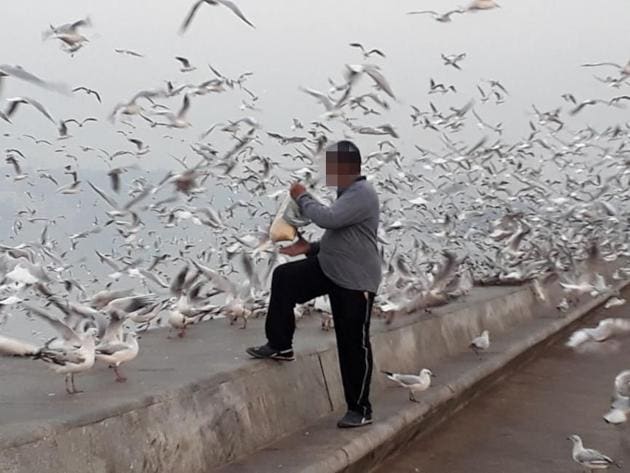 The Bombay Natural History Society (BNHS), a nature conservancy group, will ask the state government to ban the feeding of migratory birds in Mumbai, officials said.
In a second complaint in less than a week, animal welfare officers wrote to the state government on Tuesday highlighting that birds like seagulls were being fed fried food at various locations in Mumbai, Navi Mumbai, Thane and Vasai. Birds at Marine Drive are being fed sev, a snack made of chickpea flour fried in oil. For some years, nature conservationists have been raising concerns about people feeding fried food to migratory birds, warning that birds can suffer from health complications if they are fed any food which is not part of their natural diet.
"We are against this act, and it needs to be banned. We understand that people mean well when they feed the birds. But this artificial feeding of oily foods is detrimental to their health, especially for the gulls. Changes in their food habits can alter the behaviour and migratory patterns of the seagulls. We have to understand the long term consequences of this action," said Deepak Apte, director, BNHS.
He added that the BNHS had planned to make a formal communication to the state government on the issue this week. But it later decided to present a detailed report on the issue to the government, and will meet the officials once the report is prepared.
"We are developing a detailed report with suggestions, impacts and long-term consequences on migratory birds if this kind of feeding continues. A proper policy needs to be promulgated as the common man needs to know about this issue," said Apte.
On Tuesday, a non-governmental organisation (NGO), Plants and Animal Welfare Society (PAWS-Mumbai), filed a complaint with the state mangrove cell and the Navi Mumbai Municipal Corporation (NMMC) about early morning joggers from Airoli feeding seagulls along the Airoli bridge in Navi Mumbai. Three seagulls sustained minor injuries on the bridge, after having a close shave with the vehicles which were passing by. The birds were rescued, rehydrated and released by the NGO.
"Feeding the seagulls gaathiya, sev, bread and pav disturbs their natural diet pattern. Seagulls live on small fish, worms, and insects. Feeding them oily food causes health problems for the seagulls. Moreover, it also makes the surrounding unhygienic," said Sunish Subramaniam, secretary, PAWS-Mumbai.
The wildlife warden of Thane and members of the Resqink Association for Wildlife Welfare (RAWW) first highlighted this issue to the mangrove cell on Friday about regular instances along Marine Drive and other coastal areas where gulls were being fed.
"People do feed the gulls in good faith but it is doing more bad than good. We want bird lovers to be aware of this issue, and be more responsible towards it. Rather than implementing any law against feeding by force, people need to stop the act by themselves," said Pawan Sharma, president, RAWW.
Following the complaint, the state mangrove cell put up banners on Tuesday to stop people from feeding the birds at Airoli and Vashi.
"We will be putting up banners along all zones identified by the NGOs, where this activity takes place. It is a sensitive issue and the idea is to make people aware about the problem, as it can seriously harm the health of birds," said N Vasudevan, additional principal chief conservator of forest, state mangrove cell.
How are birds being affected by artificial feeding?
-Short-term effects are altering the feeding patterns for birds by being dependent on this food
-Long-term effects are altering their migratory behaviour, which can further alter flyways
-The digestive system of these birds is very small and this food can affect their stomach, liver, and can lead to health issues immediately
-They can further spread diseases due to their own health ailments, acting as carriers
-Setting a wrong example for the future generation, about acceptable habits towards protecting our ecology
(Source: Bombay Natural History Society)