Mumbai's local trains killed 406 train commuters, hurt 871 from January to July
Last year, 360 people died after falling off trains; Experts said introducing more train services will help.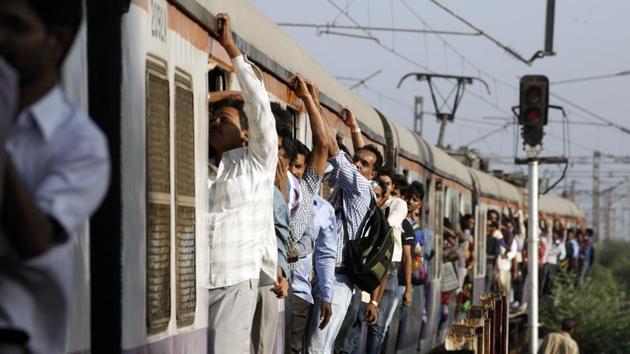 Updated on Sep 04, 2018 12:16 PM IST
Hindustan Times, Mumbai |
, Mumbai
Megha Sood
While 406 people died from falling off from crowded trains, 871 suffered serious injuries from January to July, revealed data released by the Government Railway Police (GRP). This means at least two commuters fall to their death every day while four suffer grievous injuries. Last year, 360 people died after falling off trains till July, and 654 people died through the year. "This year, the number of people who died and were injured has increased," said Niket Kaushik, commissioner of railway police.
The reasons for the increase in deaths vary, depending on the timing and stations, they said. Case in point: recommendations made by a 2011 study, undertaken for Mumbai Rail Vikas Corporation Limited (MRVC) to decongest suburban trains, have not been adequately implemented.
The study recommended measures, such as introduction of 12- and 15-car rakes, cab signalling, and a Communication Based Train Control (CBDT) to achieve a two-minute headway for Western Railway (WR) and Central Railway (CR). The only measure adopted since is the adoption of 12- and 15-car rakes.
What's more, even this has been inadequate in resolving the issue, as the number of commuters using the suburban network has increased to 8 million from 6.5 million in 2011 in 2018. Resultantly, a 12-car rake that was originally designed for 2,160 passengers now carries 5,500 passengers.
This despite the fact that the number of services have increased from 1,308 to 1,770 on CR and from 1,127 to 1,542 on WR within the same time period. However, the increase in train services and population has not been proportionate, experts have said.
Another reason for the rise in the number of train-related accidents and deaths are the increasing instances of train cancellations. The percentage of train cancellations has risen from 0.1 percent to 4 percent in the last 15 years. "100 trains get cancelled daily without alerting the commuters which increases the load on other trains," said an expert.
To mitigate the problem, WR and CR should reduce train cancellations and increase the number of train services by at least 200, experts suggested. Vivek Sahay, former divisional railway manager, Indian Railways, said, "Approximately 200 trains can be added to the present services on both lines."
Professor S Teki, who had undertaken the 2011 MRVC study, said, "I had managed to start 65 local train services in a single day in 2012. If I can do it, my successors can also."
He went on to suggest the introduction of double-decker trains and termination at stations that are heavily crowded. "This will ensure that the passenger-carrying capacity of trains increase, without the railways needing to increase services, laying more tracks, or diverting express trains to a separate track," he said.
Anoop Shukla, senior divisional security commissioner (DSC ), Railway Protection Force (RPF), said, "There are infrastructure problems leading to overcrowding in local trains, which is a serious issue and can only be solved by increasing train services."
A senior railway official, however, said the feasibility of running more services is questionable as they cannot increase existing load and risk development of cracks on the tracks. "We have been doing everything it takes to solve the problem and overusing the tracks," said the official.
Poor implementation of rules against travelling on footboards and leaning out of the trains can also be cited for the rise in the number of deaths. Boarding or alighting a running train, or leaning from a train is also a major cause of train deaths," said Kaushik.
Shukla said 5,105 commuters were penalised, as of August 19, for travelling on footboards. Last year, 3,318 were penalised. Ticket checkers also penalise unauthorised travellers, he added.
Close Story
Personalise your news feed. Follow trending topics