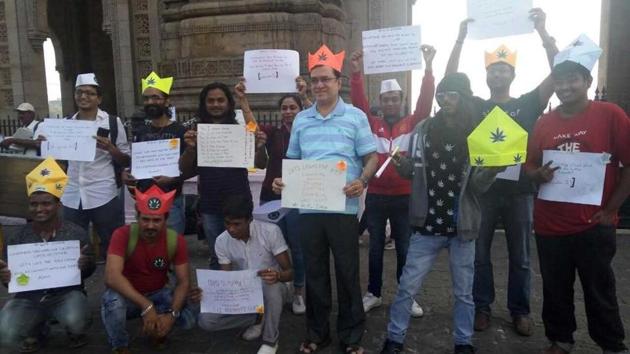 Mumbaiites fight to legalise marijuana
On December 17, members of the group walked 5km from Gateway of India to Chowpatty beach to get support for their cause.
Hindustan Times | By Yesha Kotak
PUBLISHED ON DEC 27, 2017 09:23 AM IST
What began with five people in Mumbai talking about the medical uses of cannabis, or marijuana, three years ago, is now a 100-member group that is part of a worldwide movement working for the legalisation of the herb.
On December 17, members of the group walked 5km from Gateway of India to Chowpatty beach to get support for their cause. Another walk is scheduled on January 7.
Two weeks ago, the Bangalore-based founder of the Great Legalisation Movement (GLM), Viki Vaurora, wrote to the Prime Minister asking him to legalise hemp — leaves that are the source of cannabis — for medicinal, industrial and recreational purposes. Hemp, like jute, is a source of fibre.
Dhaval Panchal, an event manager from Mumbai, who is a member of the group, said he found out about the use of cannabis oil as a cancer medicine when his father had the disease.
When Panchal's father was given a dose of the oil, he experienced less pain and could sleep better.
"By the time I found out about it, it was too late because my father had already undergone 12 chemotherapy sessions. I wish I had known earlier. But now I am trying to spread awareness about this, and we have been trying to reach out to more people through social media," said Panchal.
Akshay Shetty, another member, said the hardest task for them is to change the mindset. Although around 50% of the youth understand the benefits of cannabis, they face opposition from most of society. "There are doctors, too, who understand that cannabis can be used for medicinal purposes, but won't let us speak about it in hospitals because it is banned in the country," said Shetty.
Vaurora says he has been able to help more than 100 patients using hemp oil ever since he started the movement in 2014. "The plant we want to legalise is called the Shiva plant, and it has been spoken about in our mythology as well. When we have something that has been a part of culture for the longest time, what's the point of banning it," Vaurora says.
When HT spoke to a botanist from the city, he was of the opinion that the plant needs to be legalised because the ban is filling the pockets of the mafia.
"We should legalise the plant, as has been done in 13 states in the US, and use state machinery to treat people who use intoxicants, and not on a legal system to keep on tabs on it," said Rishi Aggarwal, an environment activist.
The movement has been gaining momentum because Member of Parliament from Patiala Dr Dharamvira Gandhi's bill seeking legalisation of the "non-synthetic" intoxicants was cleared for the Parliament last year, and was expected to be discussed in the winter session.
However, speaking to HT, Gandhi said the bill may come up for discussion only in the budget session later next year because it wasn't approved for the current session.
"My bill is an A-category bill, which means it is one of the most important bills. It speaks about legalisation of cannabis because the NDPS Act has not been able to curb the use of drugs or de-addict Indians," Gandhi said.
Close