Pawar, handheld me during my early days in politics: Modi
Nov 13, 2016 11:50 PM IST
Modi congratulated the NCP chief in advance for completing 50 years in electoral politics, saying he had shown the way to lead political life
The proximity between Prime Minister Narendra Modi and Nationalist Congress Party (NCP) chief Sharad Pawar was on display on Sunday, with both lauding each other despite the Bharatiya Janata Party and NCP being locked in a bitter fight in the state.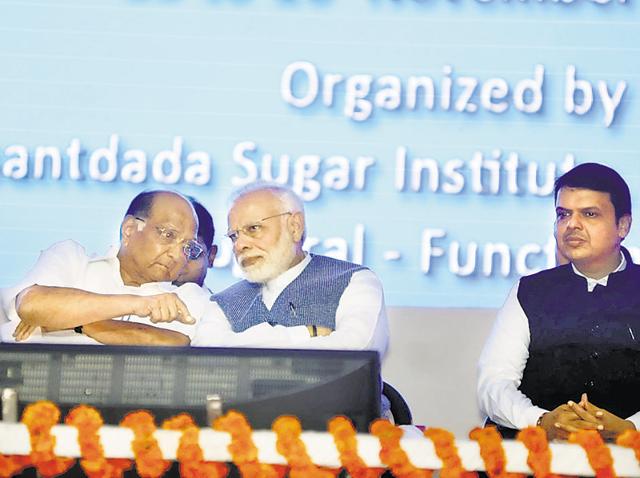 Speaking at the inauguration of an international conference on sugarcane value chain at Vasantdada Sugar Institute (VSI) at Manjri near Pune, Modi called Pawar one of the most admired politicians. "Pawar has completed 50 years of either being an MLA or MP, which is a legacy in itself in Indian politics. I have no hesitation in accepting that Pawar held my hand and taught me to walk in my early days in Gujarat," said Modi, adding he has always put farmers and agriculture first.
Modi congratulated the NCP chief in advance for completing 50 years in electoral politics, saying he had shown the way to lead political life. Pawar will be completing five decades in electoral politics in February 2017.
Pawar, too, praised Modi. "I get surprised by the way Modi works. Yesterday, he was in Japan and in the morning he went to Goa. In the afternoon, Modi came to Belgaum and now he is at VSI. I don't know where he is going in the night," Pawar said, amid laughter from the audience. "This shows his total commitment to the cause of the country."
This is the second time in two years that Modi visited an institution headed by Pawar and shared the dias with him. In February 2015, Modi visited Baramati, Pawar's hometown, to inaugurate a Krishi Vigyan Kendra building and had lunch at Pawar's home.