Ruff life: 145 pet dogs found abandoned in Thane last year, activists say adoption process must be stricter
Updated on May 31, 2017 10:40 AM IST
Thane officials said they receive more than 75 calls a day, informing them of pets left at isolated areas in the city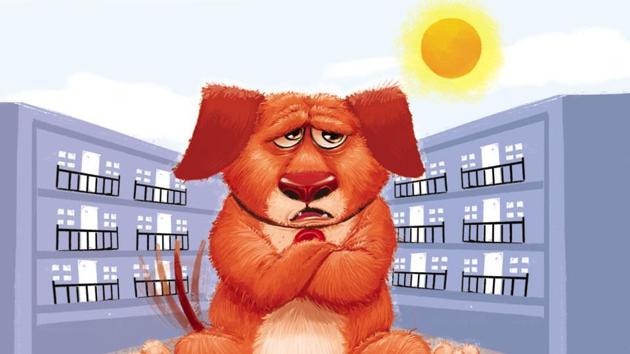 College student Shweta Rao, 23, said she was tipped off about an abandoned and bleeding dog in Badlapur a few weeks ago. As she runs a shelter for such abandoned pets, she decided to investigate. "I found an adult Labrador sitting alone. Its health had deteriorated as it had not eaten for the past few days. Now, it is healthy and my mother and I are taking care of it," she said.
Other animals are not so fortunate. Shweta added that she sees at least two to three cases of abandoned pets a week. As many as 165 pets were abandoned in Thane in 2015-16, up from 110 in 2013-2014, revealed the Society for the Prevention of Cruelty to Animals (SPCA).
Of the 145 pet dogs that were found abandoned last year, most were labradors, german shepherds, dachshunds, pomeranians, golden retrievers and great danes , said officials. Persian cats formed the majority of the 20 cats abandoned last year.
Officials said they receive more than 75 calls a day, informing them of pets left at isolated areas in the city, such as isolated bylanes in Ghodbunder Road and Vartak Nagar. They have now deployed teams to keep a watch on such areas.
A majority of pet owners abandon their pet soon after it is adopted. "The owner either realises that he is incapable of taking care of the animal or does not have the money to do so. Sometimes, pets are abandoned when their owners decide to move," said Thane SPCA president, Shakuntala Majumdar.
"We recently rescued a Labrador that had been in an accident and was blinded as a result. His owners abandoned it near the highway," he said.
He said there was a need to sensitise pet owners and make them aware of what adopting a pet entails. He also said background checks need to be conducted on such people before the pet is handed over to them.
"Highways are the main areas where people leave their pets as such spots are not monitored by CCTV cameras. Adoption centres must conduct surprise checks on pet owners. Only this will keep them on their toes," said Dipika Pingale, 23, a Thane resident.
Personalise your news feed. Follow trending topics