Poppy love in Mumbai: Highs and lows of legal opium addicts
Mar 09, 2015 03:38 PM IST
They are the last few official opium users in Maharashtra and have to collect their share from the state excise department on the 1st or the last Saturday of every month.
It is the last Saturday of the month. A small group of senior citizens stands outside the Maharashtra State Excise Depot behind the Brihanmumbai Municipal Corporation (BMC) headquarters in south Mumbai.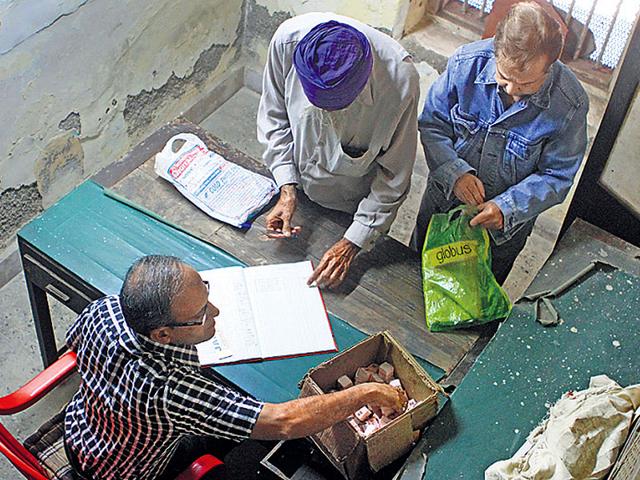 Many may mistake these people, who have travelled from across the city, to be regular pensioners. But the group, patiently waiting for a counter to open in the doublestorey structure, isn't there to collect money; it is waiting to get its monthly quota of opium.
Stay tuned with breaking news on HT Channel on Facebook.
Join Now
They are the last few official opium users in Maharashtra and have to collect their share from the state excise department on the 1st or the last Saturday of every month.
From a few thousands around four decades ago, to 600 when the government stopped issuing licences to opium addicts in the early 1990s, there are now only 206 people legally allowed to use the drug.
The average age of the surviving opium use is around 70 years, excise sub-inspector KS Palinkar said. The oldest among them is Saki Naka resident Kartar Singh, who is 85 years old and a two-time Indo-Pak war veteran.
While the group waits outside, Krishna B Khetal, 41, additional depot in-charge, pulls open a steel cupboard in a small dusty room and removes several plastic boxes with the excise department seal on them.
With the boxes placed next to him, Khetal settles down in front of his desk with a thick ledger. At 10am, he opens the iron grills and allows the customers to walk in.
Like always, Gurbaksh Singh, a septuagenarian transporter from Sion-Koliwada and a graduate from the erstwhile Bombay university, is the first to enter.
After thoroughly checking the licence and medical certificate, Khetal stamps the documents and hands over six plastic boxes — each containing 5gm of pure opium — to Gurbaksh.
The senior citizen signs the ledger, pays Rs 360 (Rs 12 a gram) and steps aside for the next customer, Balbir Singh, another transporter, who is from Mulund.
"They are a reminder of an era long gone. In the next 10 years, the practice [of consuming opium legally] may come to an end," said Yatin Sawant, additional commissioner, state excise.
The state government had stopped issuing fresh licences to opium users under the Narcotic Drugs and Psychotropic Substances (NDPS) Act, 1985, as it was included as a scheduled drug with controlled production and supply only to pharmaceutical companies.
According to former excise superintendent VR Sakhalkar, opium was not a banned substance while the British ruled India.
In fact, many Indian businessmen and business houses flourished from the opium trade and it was freely cultivated and available in the market. "But after the enactment of the Bombay Prohibition Act of 1949 (Section 48), the government started issuing licences to opium users," Sakhalkar said, adding that under paragraph 3 of the Section, a certificate from the medical board became mandatory as the drug was prescribed as a painkiller. The practice is still followed today.
In the 1950s and 1960s, after the introduction of many legislations — the Bombay Bhang and Ganja Rules, 1953, Bombay Opium Rule,1953, Maharashtra Poppy Capsule Rules, 1961 — licences were denied to applicants born after 1949.
"The final decision was taken by the state government in 1993. In a bid to stop addiction, the government decided to stop issuing fresh licences, but it made provisions for existing users to buy opium from counters on medical grounds," said Sawant.
What is interesting is that most of the users come from a similar background, with most of them being transporters who took to using opium to get through their gruelling trips.
"I was in my teens when I started to work as a helper in a truck that would ply between Bombay [now Mumbai] and Delhi. Dozing off during that 46-hour journey would result in beating by the driver. He then got me hooked to opium so that I would stay awake," said Balka Singh, 75, a resident of Sion-Koliwada and truck driver.
"No one should fall prey to this addiction. We [opium users] know how it has enslaved us. It is like hell and you can't ever get out," he added.