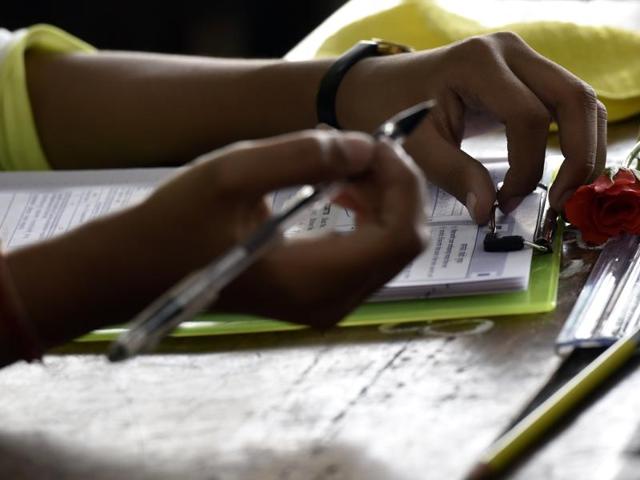 SSC exam: 25% rise in learning disability students raises doubts
As many as 1,261 students with LD registered for the exam this year in Maharashtra as against 963 students in 2015
PUBLISHED ON MAR 08, 2016 12:28 AM IST
While the number of candidates who appeared for the Secondary School Certificate (SSC) exam this year fell marginally, the number of students with learning disability (LD) rose more than 25%.The revelation has led to worries among academicians that some parents may be using "unethical means" to get their children registered as 'learning disabled' to use examination concessions, such as extra time and writers.
As many as 1,261 students with LD registered for the exam this year as against 963 students in 2015. Overall, 3,74,799 students registered for the SSC exam, compared to 3,82,437 students in 2015 .
The state education board offers concessions to special students in the form of extra time, writers and the option to select an easier version of mathematics or to drop a language subject. This year, the students were also given an added facility to use adult writers if they are unable to find younger writers.
Surprised by the sharp rise in the number of LD students at the SSC exam this year, a state-wide association of teachers has written to the state board. "Every school seems to have 40-45 LD students these days. In many cases, students are getting identified [as having LD] in Class 10 directly," said Uday Nare, senior teacher at Hansraj Morarji Public School, Andheri and a member of the association. "There are fears that parents are using this to improve the SSC results of their children."
According to Nare, although the LD certificates are issued in Mumbi by only three government hospitals — Sion, Nair and KEM — which test children before certifying them as having learning problems, touts have also started providing "fake" certificates. "Parents are also being approached by touts who offer to get these certificates. We have asked the board authorities to at least come up with a system to authenticate the certificates before offering concessions," Nare said.
Mental health professionals, however, have a completely different view on the issue. They said the number of such students is actually fewer than what it should be and the current number is just one-fifth of the actual number of LD students. "According to our estimates, 5% to 8% of all children must be LD, but unfortunately identification is poor right now. The number needs to be much higher," said Dr Harish Shetty, senior psychiatrist, Dr LH Hiranandani Foundation Hospital, Powai.
Similarly, Dr Samir Dalwai, developmental pediatrician, New Horizons Development Centre, Goregaon, said internationally, 10% of total population of children has LD. "The large number of LD students registering for SSC exam is not a case of over-reporting," he said. "It means that larger number of children are slowly starting to come out of the stigma attached to LD and opt for the benefits that they deserve."
Close