The life of legendary singer Manna Dey, golden voice of Indian cinema
Updated on Oct 24, 2013 08:47 PM IST
Manna Dey was as adept at rendering complex classical-based numbers, qawalis, ghazals and bhajans as he was at singing buoyant romantic songs, soft pathos-laden ones and light, fun numbers.Timeline on Manna Dey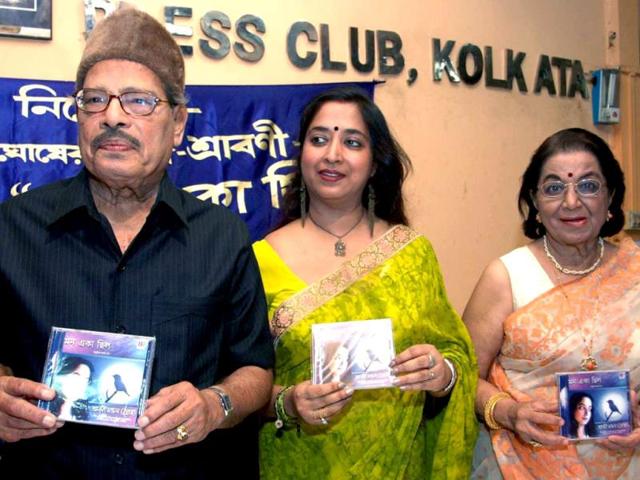 Credited with pioneering a new genre by infusing Indian classical music in a pop framework, Manna Dey epitomised the golden period of Hindi cinema with his inimitable style and memorable songs like Puchho na kaise, Aye meri zoharajabi and Laga chunri mein daag.


Along with Rafi, Mukesh, and Kishore Kumar, Dey was the last member of the famous quartet of singers who dominated the Hindi music industry from 1950s to 1970s.
In a career spanning over five decades, Dey, who died on Thursday in Bangalore at the age of 94, went on to sing over 3,500 songs in Hindi, Bengali, Gujarati, Marathi, Malayalam, Kannada and Assamese films before quitting movies in the '90s.
His last song was for 2006 film Umar.
While Rafi, Mukesh and Kishore were the favoured voices when it came to the lead actors, Dey stood out for his unique voice. Adept also at singing Rabindra Sangeet, the multi-talented legendary singer's experimentation with western music and qawwali produced many unforgettable melodies.
Dey, who had made Bangalore his home for the past few years, started his career in playback singing with the film Tamanna in 1943. The musical score was set by his uncle Krishna Chandra Dey and he had to sing a duet with Suraiya. The song Sur na saje kiya gaon mein was an instant hit.
In 1950, Mashal was the second film where Dey got the opportunity to sing a solo Upar gagan vishal, a melody created by Sachin Dev Burman.
In 1952, Dey sang both for a Bengali and a Marathi film of the same name and storyline, Amar Bhupali, and established himself as a booming Bengali playback singer that in years to come took him to greater heights.
READ:

Dey was much in demand for complicated raag-based songs and was once even pitted against his idol Bhimsen Joshi in 1956 movie Basant Bahar for Ketki, gulab, juhi song, something that he initially refused.
While his mastery over classical numbers somewhat pigeonholed him, the uniqueness of his voice made it impossible for any singer to replicate him.
A meticulous singer, Dey would often prepare extensively before rendering a song. The singer gave credit to Shankar-Jaikishan for understanding his depth as a singer. Dey sang for showman Raj Kapoor in Aawara, Shri 420 and Chori Chori.
"I am especially indebted to Shankerji, for had it not been for his patronage, I would certainly not have attained the heights of success I enjoyed in my career. Here was one man who knew how to bring out the best in me. In fact, he was the first music director who dared to experiment with my voice by making me sing romantic numbers," Dey recalled in his autobiography Memories Come Alive.
The duo also helped Dey realise his dream of singing for lead actors in movies. His famous song during this period include Tere bina aag yeh chandni from Aawara, Dil ka haal sune dilwala, Pyaar hua ikraar hua from Shri 420, Aaja sanam and Yeh raat bheegi bheegi from Chori Chori and Ay bhai zara dekh ke chalo from Mera Naam Joker.
Dey gave hits like Kasme vaade pyar wafa and Yaari hai imaan for veteran actor Pran in Upkaar and Zanjeer, thus contributing immensely to Pran's transition from negative roles to character parts in cinema.
READ:
Dey recorded many popular duets with Rafi, Lata Mangeshkar, Asha Bhosle and Kishore Kumar. He gave some of his biggest hits with composers SD Burman, RD Burman, Shankar-Jaikishan, Anil Biswas, Roshan and Salil Chowdhury, Madan Mohan and NC Ramachandra.
Dey's lilting voice enthralled the audience throughout the world and awards flowed naturally to him, including Padma Shree and Padma Bhusan. He has also lent his voice for Madhushala, composed by late Harivansh Rai Bachchan.
Dey won national awards for Best Male Playback Singer for the Hindi film Mere Huzur and for the Bengali film Nishi Padma.
Trained by his uncle Krishna Chandra Dey and Ustad Dabir Khan, Dey sang light classical songs for Hindi films with the ease and felicity rarely matched by any past and future singer.
Dey's Zindagi Kaise Hai Paheli for the film Anand and set to the tune by Salil Chowdhury is still a hit with FM stations nation-wide.
Apart from film songs, he also left a large legacy of non-film songs, especially Bengali modern songs, which have retained popularity and freshness till now.
READ:

His rendition of qawwalis like Yaari hai iman mera earned him a large number of fans, while his Bengali modern songs have retained their popularity and freshness for decades.
Dey received his education in Kolkata's famed Scottish Church College and Vidyasagar College. He found his calling in school itself where he would sing to entertain his friends, but soon he took it up seriously under the tutelage of his uncle.
Dey accompanied his uncle in 1942 on a visit to Mumbai. There he first worked as an assistant of his uncle and then under SD Burman, who recognised his talent.
Dey was married to Sulochana Kumaran from Kerala. The couple had two daughters. He referred to Sulochana as his inspiration. "She was everything in my life -- the one I always consulted about my profession not to speak about my personal life as well."
His autobiography Jiboner Jalsaghorey was published in 2005 and was later translated into English (Memories Come Alive), in Hindi (Yaden Jee Uthi) and in Marathi.
He had turned a recluse in the last years of his life, especially after the death of his wife Sulochana in January 2012 and lived in Bangalore.
Dey's death marks the passing away of an era in a year that marks the century of Hindi film industry. The voice behind Coffee Houser Sei Addata, the timeless song on youth and their aspirations which is still as popular as when it was released three decades ago, has permanently fallen silent.
(With inputs from PTI)

The celebs tweeted: