Bajrang Dal organises self-defence camp in Noida against 'extremist attack'
Updated on May 24, 2016 11:50 PM IST
Similar to those held in other cites in Uttar Pradesh, the right wing organisation Bajrang Dal is organising a self-defence training camp at Saraswati Shishu Mandir in Sector 12, Noida. A spokesperson of the group claimed that over 300 participants are undergoing training to handle situations like "attacks by extremist groups."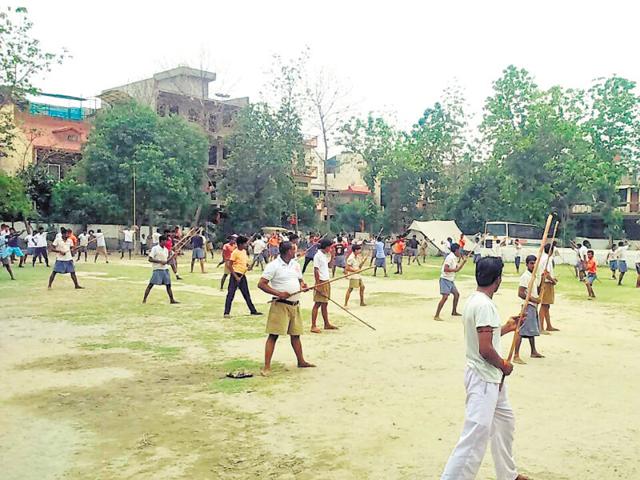 Similar to those held in other cites in Uttar Pradesh, the right wing organisation Bajrang Dal is organising a self-defence training camp at Saraswati Shishu Mandir in Sector 12, Noida. A spokesperson of the group claimed that over 300 participants are undergoing training to handle situations like "attacks by extremist groups".
"The participants are not only taught martial arts, but they are also being trained to overcome obstacles -- as is taught in army training courses -- and how to survive and retaliate any untoward situation. They are being trained on how to serve the country in any condition," said Umanand Kaushik, spokesperson of the Bajrang Dal Noida unit.
The organisation has hired trainers of judo, karate, nunchaku, stick and sword fighting for training the participants in the camp.
"People from all age groups are participating in the camp. However, a majority of the participants are students who are on summer break," Kaushik said.
He claimed that the organisation is also teaching participants about how to shoot with the help of air pistols and rifles.
"The physically fit participants are given various tasks and exercises to perform while carrying an air gun, which weighs around 4-5 kg. The shooting practice is conducted by professionals in the field," Kaushik said.
The camp started on May 21 and will end on May 28 when the international working president of Vishwa Hindu Parishad, Praveen Togadia, is likely to visit the camp.
"We have dreamt of a strong India. For that, we will have to train together and become strong citizens. We are surrounded with extremists and they can attack at any point of time at the city of their choice. Trained persons can handle such situations. Also, a strong citizen will reunite his friends and family to fight back," Kaushik said.
Downplaying the furore over Bajrang Dal's annual self-defence camp in Ayodhya, Governor Ram Naik on Tuesday said there was nothing wrong in conducting such camps, adding it should be continued at all costs.
"There is no harm in self-defence camps -- what's important is to understand the intention behind them. All kinds of education teaching self defence is important and it should be continued at all costs. How can those who can't defend themselves, defend society?" Naik said in Aligarh.
The Congress condemned the camp and accused the BJP of 'polarising' the situation in the state going to polls next year.
"There is no use of making this kind of environment in the nation. The people in BJP will now do these kinds of activities every day to polarise the situation as the elections are round the corner in Uttar Pradesh," said Congress leader Meem Afzal.
with inputs from ANI
Personalise your news feed. Follow trending topics