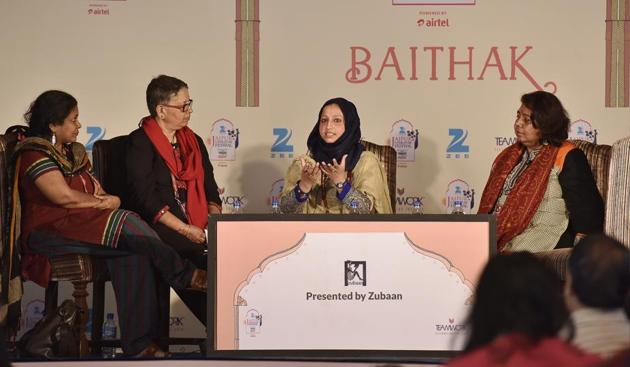 Jaipur Litfest wouldn't be poorer without RSS pracharaks
Why will representatives of the RSS, without any apparent literary worth, make their debut at the Jaipur Literature Festival is a question generating much sound and heat in literary circles
UPDATED ON JAN 16, 2017 12:28 PM IST
So who are the regulars missing from the Jaipur Literature Festival (JLF) line-up this time? Conspicuous by their absence will be poet-translator Ashok Vajpeyi, scholar-poet Uday Prakash and litterateur K Satchidanandan. All three were prominent faces of the award waapsi campaign last year where writers and poets returned State-sponsored awards against growing intolerance of freedom of speech in the country. And who are the luminaries who'll make up for the absence of these literary heavyweights? Well, don't bet on propaganda officials of the Rashtriya Swayamsevak Sangh (RSS) for sure. What's raising the hackles of critics in the 2017 edition is a session featuring two leading RSS pracharaks: Akhil Bharatiya prachar pramukh Manmohan Vaidya and sahsarkaryavah Dattatreya Hosabale. Why will representatives of the RSS, the ideological fountainhead of the Bharatiya Janata Party, without any apparent literary worth, make their debut at the "greatest literary show on the earth", particularly in a year when the litfest celebrates its tenth anniversary, is anybody's guess.
Read:The two JLF controversies that you must know about
But then the Jaipur Literature festival is no stranger to controversy. In 2012, even as celebrated author Salman Rushdie was persuaded to stay away from the festival citing security concerns, writers Amitava Kumar, Jeet Thayil, Ruchir Joshi and Hari Kunzru decided to read out excerpts from his banned novel, Satanic Verses, as a mark of protest.
Read:Jaipur Lit Festival in London: Why this fuss about Vedanta
Namita Gokhale, one of the co-founders of the festival, has reportedly attributed hosting the RSS to "an intellectual curiosity". While the premise of plurality and listening to diverse points of view is admirable, the literary merit of the two pracharaks can be dubious at best. The other speakers at JLF 2017 include the well-regarded David Armitage, Harvard professor and the author of A Global History, Giles Milton, bestselling author of nine works of narrative history, political scientist Vinay Sitapati and academic-historian Reba Som. Arguably, the Kumbh of publishing wouldn't be poorer without the publicists (pracharaks) from the RSS.
Close