FIH Pro League: Sreejesh, Pathak star as India down Belgium
Having rested seasoned players like SV Sunil, Birendra Lakra, Akashdeep Singh and Chinglensana Singh, India had fielded a relatively younger side than the one that faced the Netherlands.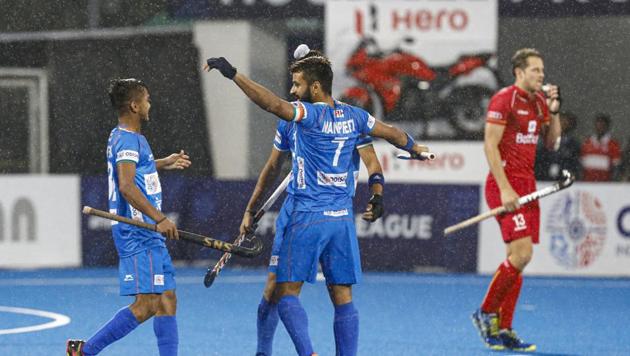 Updated on Feb 08, 2020 10:32 PM IST
Bhubaneswar woke up to a gloomy and unusually cold Saturday morning with overcast conditions. But it was one of the brightest days for Indian hockey in recent times as the Manpreet Singh-led team convincingly held off world champions Belgium to win 2-1. And there couldn't have been a better venue to achieve that feat as Kalinga Stadium was where Belgium had won the World Cup title a little more than a year ago.
Though the scoresheets will show forwards Mandeep Singh (2nd) and Ramandeep Singh (46th) as scorers, it was the combined effort of goalkeepers PR Sreejesh and Krishan Pathak that won India—the current world No 4—this contest. "Both Indian goalkeepers were fantastic. Without them we would have seen a totally different scoreline," said Belgium coach Shane McLeod. Belgium earned as many as 13 penalty corners, converting merely one—Gauthier Boccard in the 33rd minute—with the rest being saved either by the rushers and goalkeepers. This is apart from the numerous saves Sreejesh and Player-of-the-Match Pathak made during the regular course of play. Reid's policy of changing goalkeepers every quarter has proved effective as not only does the second goalkeeper get real-time match practice, he is also game ready in case of an unavailability.
Though heavy rain kept many fans away, those who braved it to the stadium were treated to some delightful play by India, who now are in second place with eight points from three matches and only behind leaders Belgium (11), who have played two more games in the FIH Pro League.
Like the previous ties against the Netherlands, India stunned Belgium by taking an unexpected lead. Debutant Raj Kumar Pal set up a fantastic goal within 90 seconds of play, passing from the left flank to Dilpreet Singh on top of the circle. Dilpreet hit it hard with Mandeep waiting at the gates to just tap it in. "One of the features was the scoreboard pressure. India scored early which gave them quite a bit of confidence. We created chances after chances with PCs but there was more desperation in our execution. I felt as if we were chasing a game. Not that we were playing poorly but scoreline created the pressure and affected how we played," said McLeod.
The reigning world champions were not going to sit quietly though. They immediately countered by pressing the opposition, making several circle entries—40 in comparison to India's 18—which young Pathak had to counter. The 22-year-old gave a superb show by thwarting five penalty corners (PC) in the first quarter itself. Pathak fended off every attempt made to bypass his defence, especially after faltering against the Dutch just two weeks back when he had conceded three in four minutes. Constant rain also didn't help matters as the pitch slowed down.
Satisfied with the result, India chief coach Graham Reid however was a little concerned about the errors that allowed the Belgians take as many as 24 shots on goal. "I'm really pleased about winning a tough encounter. They threw everything at us and we came out on top. But we gave away too many opportunities (corners). We have to do better than this but you are also playing against the best team in the world. So lots to learn," said Reid.
Drawing inspiration from the goalkeepers who kept the slate clean, others too rose to the occasion. Having rested seasoned players like SV Sunil, Birendra Lakra, Akashdeep Singh and Chinglensana Singh, India had fielded a relatively younger side than the one that faced the Netherlands. The Indian midfield was able to match the might of the Belgians, who have in their ranks reigning FIH Player of the Year Arthur van Doren, Goalkeeper of the Year Vincent Vanasch and also Rising Player of the Year Arthur de Sloover.
"India showed today they can beat any team in the world. We are sitting No.1 and regardless of how they did it, they did it. They are going in a good way," added McLeod. "We didn't execute things well in the attacking circle. We had enough corners to normally win a game. The energy of the players increased but frustration too came in."
With better accuracy and ball possession, the world champions levelled the contest at the start of the second half. But that also spurred India to reclaim the lead as the hosts too earned four penalty corners, converting one on their third attempt. Rupinder Pal Singh took the flick, the ball rebounded off a rusher and Ramandeep was in perfect position to poach and put the ball in.
Belgium weren't composed enough in the last 14 minutes, becoming too eager to score and losing their structure. Under pressure to level, they failed to convert several chances despite better ball possession, several circle entries and PCs. That showed in the last three minutes when India were a player down—forward Dilpreet Singh was given a yellow card—and the Belgians substituted goalie Vanasch with a field player. But a resolute India fended off another PC with just four seconds from the hooter.
"For most part we created chances to win a lot of corners but India defended really well. The goalies played an amazing game, credit to them. They didn't let the ball go in," said Belgium captain Thomas Briels. "It is a good lesson. India is a tough opponent and we like to play tough opponents and learn from them. We will try to be better tomorrow. India put up a fight and are contestants for an Olympic medal."
Topics
Close Story