Mirabai Chanu betters own national record but misses out on medal in World Championship
Mirabai's earlier national record was 199kg (88kg+111kg) which she recorded in the Asian Weightlifting Championship in China in April.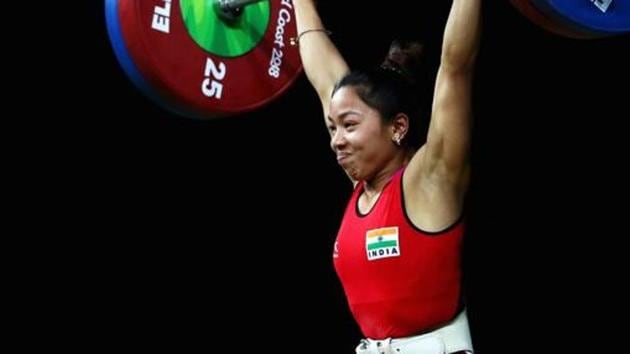 Updated on Sep 19, 2019 11:13 PM IST
Mirabai Chanu crossed a major hurdle as the 25-year-old Manipuri lifted a total of 201kg (87kg in snatch and 114kg in clean & jerk) in the 49kg category to shatter her national record of 199kg and in the process finish a creditable fourth at the World Weightlifting Championships in Pattaya on Thursday.
The 4 feet 11 inches tall lifter, winner of the 2018 Gold Coast Commonwealth Games gold, had long been within whispering distance of the 200kg mark, lifting a total of 199kg (86kg in snatch and 113kg in clean & jerk) at the Asian Championships in Ningbo, China this April.
Chanu drifted slightly, managing 191kg (84kg in snatch and 107kg in clean & jerk) on way to gold at the Commonwealth Championships at Apia, Samoa in July, but was consistently in the 'zone'.
On Thursday, she committed herself to the task but fell short of the bronze medal winner, North Korean Ri Song Gum—who lifted a total of 204kg (89kg+115kg)—by just three kgs.
China's Jiang Huihua set a world record, lifting a total of 212kg (94kg+118kg) and in the process eclipsing the previous mark of 210kg held by compatriot Hou Zhihui, who settled for silver with a combined total of 211kg (94kg+117kg).
Target achieved
"We are satisfied with the performance. Our target was to break the 200kg barrier and that has been achieved. Her performance in Pattaya has also brightened her chances of winning a 2020 Tokyo Olympics berth," chief coach Vijay Sharma said over phone from Pattaya.
"The competition here is one in a series of Olympic qualifiers and the final rankings and positions will be clear after the Asian Championships in April 2020."
On an eventful day, Chanu, after clearing 87kg in snatch, lifted 110 in clean & jerk in her first attempt and then went for 114kg in her second, which too was successful.
But another four kgs on the bar in her third attempt was a bit too much for the Manipuri. Had Chanu lifted 118kg, she would have won the bronze with a total of 205kg.
It has been a remarkable journey for Chanu, who returned to action in February following a back injury, which forced her to miss the World Championships and the Jakarta Asian Games last year.
Trial by fire
It was a trial by fire for the lifter, who had to immediately switch to a higher weight category as the International Weightlifting Federation (IWF) had rejigged the weight categories late last year.
Chanu had won the 2017 World Championships gold at Anaheim, USA in the 48kg category and moving to 49kg put her under extra pressure to not only stop the recurrence of the back injury but also lift heavier weights in order to remain competitive.
That the rehabilitation was successful was apparent when she won gold in the EGAT Cup—one of the six Olympic qualifying events—at Bangkok in February. "Chanu's best in training has been 115kg and she came close today. We will now push the bar to 118kg," said the coach.
Close Story