Pro Kabaddi League 2018, Patna Pirates vs UP Yoddha, Highlights: As It Happened
'Dubki King' Pardeep Narwal will be up against star raider Rishank Devadiga when defending champions Patna Pirates take on UP Yoddha at the Jawahar Lal Nehru indoor stadium in Chennai. The Pirates are coming into the match on the back of a big defeat against Tamil Thalaivas in the season opener. Patna's defence was the key concern for Pardeep in first game as they managed just 2 tackle points in the entire game, which was their lowest every tackle points tally in a PKL match and 2nd lowest of PKL.Follow the highlights of PKL 2018, UP Yoddha vs Patna Pirates, below -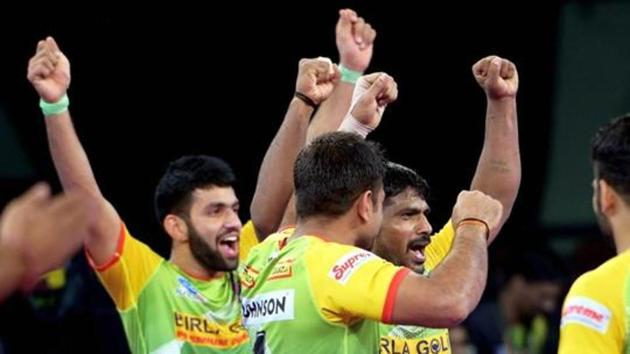 Updated on Oct 11, 2018 10:47 PM IST
21:02 hrs IST
Match ends
Patna Pirates keep hold of their nerves in the end and Srikanth Jadhav is taken down by their defenders emphatically. Patna win the match 43-41 and Pardeep Narwal was the star of the day for them as he ended with 16 points.
20:59 hrs IST
Technical point for Patna
The referee awards Patna Pirates with one technical point after Rishank entered the court before the referee asked him to. Rishank was revived after a touch point but his act means UP are now two points behind Patna.
20:54 hrs IST
Patna keep their lead intact
Srikanth Jadhav had levelled the match by picking up two points during his raid. However, Pardeep hits back with a two-point raid of his own and takes his team in front once again. Patna lead 39-37 with four minutes to go.
20:49 hrs IST
Pardeep taken out
This could be the game-changing moment as Pardeep Narwal is grabbed easily by the UP defenders and he has to head to the bench now. 6 minutes left to be played in the match and Patna lead 36-35.
20:44 hrs IST
All-out
Jawahar is taken down easily by the UP defenders and that means they win three points courtesy of an all-out. But before going down, Jawahar had won a bonus point for his team. The two teams are locked at 33-33 now with 9 minutes to go.
20:40 hrs IST
Super tackle on Rishank
Excellent stuff from the Patna defenders as they bring down Rishank Devadiga to win three points for their team as it was super tackle. But UP stay close to Patna in terms of points as they are only four points behind with 12 minutes to be played.
20:35 hrs IST
Patna winning points at will
Patna Pirates are doing well to win points at regular intervals. If the raiders are not able to win raid points, they are going for bonus points and getting it. They now lead 28-24 with 15 minutes left to be played.
20:30 hrs IST
Second half begins
Rohit Kumar is taken out by the Patna defenders and that means UP have been all-out once again. But before getting caught, Rahul had won a bonus point for his team. Patna lead 25-21.
20:24 hrs IST
Half-time
Skipper Pardeep is leading from the front as he hits UP with a super 10 to take his team into the lead at half-time. The defending champions have a slender 21-20 lead at the break.
20:20 hrs IST
Patna hit back again
Rishank is once again taken out emphatically by the Patna defenders and this gives the defending champions to cut down the UP's lead in the final few minutes of the first half.
20:16 hrs IST
Super Raid
Rishank Devadiga leads from the front and takes out three Patna defenders for a super raid. This means that he has won three points for his team. Then, Srikanth Jadhav takes out two Patna defenders to extend their lead. The Pirates are now all-out and they have conceded three more points. UP lead 20-15.
20:14 hrs IST
All-out
Patna Pirates have surged into the lead for the first time today as they take a 12-11 lead in the match. The last player of UP was taken down by the Patna defenders to effect the all-out.
20:11 hrs IST
Patna stage a fightback
After a slow start Patna players are fighting their way back into the match. Pardeep wins back to back raid point while defender Kuldeep brings down Rishank emphatically. Patna now trail 7-9.
20:07 hrs IST
Rishank on fire
UP Yoddha are winning points at will as they have opened up a healthy four-point lead in the first half. Rishank wins two points during his raid as he easily evaded the grasp of two defenders and went inside his own half. Good start for the Yoddhas.
20:03 hrs IST
Poor start for Pardeep Narwal
The Yoddhas have set the tone early on as defender Nitesh brings down Pardeep to win the first point of the day. Prashant Kumar wins a bonus point and then Rishank Devadiga wins a raid point. Yoddha take a slender lead early on.
19:56 hrs IST
Match about to begin
The players are now making their way into the middle and it is going to be a blockbuster contest. Patna Pirates will look for a statement win today to reignite their campaign after a poor start against Tamil Thalaivas.
19:50 hrs IST
Upcoming milestones
Rishank Devadiga (UP) needs 6 more points to complete 500 total points in PKL. Deepak Narwal (PAT) needs 14 raid points to reach 200 raid points in PKL. Rohit Kumar Choudhary (UP) needs 10 raid points to reach 100 raid points in PKL.
19:40 hrs IST
Head to head
UP Yoddha and Patna Pirates played against each other thrice in PKL. All their matches in PKL 5 were close encounters, finishing within a point difference of 5. Two of these matches were high scoring matches where both teams scored 40+ points.
19:25 hrs IST
Hello and welcome
A very warm welcome to the live blog of the Pro Kabaddi League match between UP Yoddha and Patna Pirates, which will take place at the Jawahar Lal Nehru stadium in Chennai.
Close Story