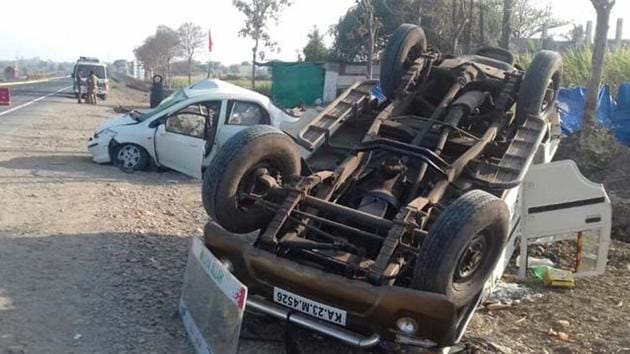 Five dead, seven injured after car rams into stationary SUV near Solapur
The incident happened after the driver of a Honda City lost control of the vehicle after one of its tyres burst and rammed it into a Bolero which was parked on the side of the road due to a punctured tyre.
Hindustan Times, Pune | By Shalaka Shinde
, Pune
UPDATED ON FEB 28, 2018 03:11 PM IST
Five people were killed and seven injured after a Honda City rammed into a Bolero at 4:30 am on Tuesday. The incident took place in the jurisdiction of the Solapur taluka police station, Solapur rural police.
"The Bolero was parked on the side of the road to fix a punctured tyre. The Honda City rammed into the Bolero after the driver lost control of the vehicle when one of its tyres burst," station house officer assistant sub-inspector PB Dhale of Solapur taluka police station said, while referring to the complaint filed by Rajasaheb Husain Bagewadi, who was in the Bolero.
The deceased have been identified as Zamir Husain Dadasaheb Patil, 32; Mehmood Aklak Pasha Patil, 26; both residents of Penur region of Mohol; Tipu Sultan Umarsahab Chaparband, 26; Amir Humza Ladsahab Navandagi, 50; and Abdul Hussain Chaparband, 73; all three residents Baswant Bagewadi Vijapur. Four of the deceased were travelling in the car which hit the stationary vehicle.
The injured were identified as Salman Musa Hazrat Patil, 25, a resident of Penur; Rajasahab Hussain Bagewadi, 43; Dinami Maliksahab Chaparband, 45; Daudsahab Kankal, 60; and Nasibsaheb Walikar urf Kankal, all residents of Baswant Bagewadi in Solapur and Suhail Madar Rajnal, 18; a resident of Dhangar Vasti in Solapur. They are all being treated at the government hospital in Solapur.
The Bolero was registered under KA23M4526 while the Honda City was registered under MH12CX1248, according to the police.
A case under Sections 304(a), 279, 337, 338, 427 of the Indian Penal Code (IPC) and Sections 183, 184 and 177 of Motor Vehicle Act was registered at the Solapur Taluka police station. The case is being investigated by police sub-inspector Khateeb.
Close