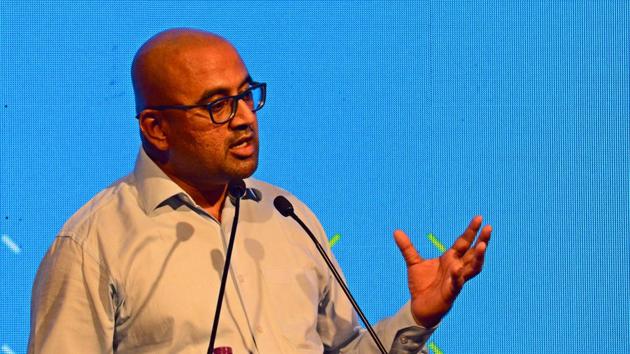 'Poop Guy' explains how transformation of community toilets can change India's future
UPDATED ON FEB 17, 2018 11:22 PM IST
Ananya Barua
ananya.barua@htlive.com
Design the change you want to see in the world," said former techie-turned-social designer, Swapnil Chaturvedi, modifying Mahatma Gandhi's well known quote "Be the change you want to see in the world". He, along with Neils Peter Flint, owner, NPFlint Consultancy, was speaking on changing the perception of design, from its decorative appeal to a social appeal that can trigger positive change. Chaturvedi was delivering the Prof MP Ranjan memorial lecture on the second day of the 12th Pune Design Festival (PDF) on Saturday.
Chaturvedi further spoke of his experience in designing the highly successful Samagra Sandas system. He pointed out that the system has transformed the dirtiest community spaces and toilets into empowered spaces with value-added incentives for the urban poor and city's slum dwellers.
Popularly known as the 'Poop Guy', Chaturvedi said the aim of Samagra is to provide proper sanitation and value-added services (health and finance) to 20 million urban poor in the next five years.
At another panel discussion on the future of design education, Nidhip Mehta, head of the School of Design, Pearl Academy, asked him whether design was seen as a way of life or was it aimed at creating an elite group of designers "who exist somewhere in the clouds and cater to only a certain strata of the population".
In reply to the query, Chaturvedi said that creating designs which are affordable, simplistic and relevant is a risk, but it needs to be taken by the new generation of design students.
The community toilets, he said, now provided incentives to users like mobile top-up spots, electricity bill payment counters, banking centres and clean drinking water centres where one can buy 20 litres of water for ₹5. "We realised that community toilets are the biggest open spaces and decided to transform them into community health centres and day-care centres simultaneously," he said.
The design festival was organised by the Association of Designers of India (ADI) on February 16 and February 17 at Hotel Hyatt Regency, Vimannagar.
One of his former students, Anmol Gupta, had created a simplistic tool, 'Gomi', to help improve hygiene and sanitation in rural parts of the country by limiting physical contact with infectious manure, collected mostly by young girls and women. According to Gupta, the concept behind the social product was conceived after carefully analysing a group of rural women near Kota for months and how their health was being affected by the daily chore of collecting manure using their bare hands.
Close