Roseland residents teach Pune the sustainable green lifestyle
Hindustan Times, Pune |
Prachi Bari
Oct 01, 2017 10:43 PM IST
The society has tackled plastic collection, e-waste management, garbage segregation, leaf compost, sewage water treatment and even sparrow conservation
Roseland Residency members have been celebrating ever since the announcement of them bagging the National Swachh Bharat Award 2017 under the Resident Welfare Association (RWA) category was made on September 28.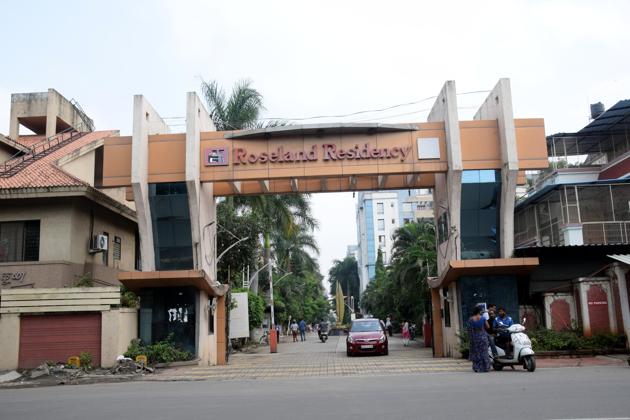 Residents of the society congratulated each other and the managing committee group with sweets. Their society became the first from Pimpri-Chinchwad area to win this award which will be awarded to the society members by Prime Minister Narendra Modi on October 2, Gandhi Jayanti, at a function in New Delhi .
The society has won the award for their innovative sustained techniques in plastic collection, e-waste management, wet and dry garbage segregation, leaf compost, awareness campaigns among residents, composting at source, sewage treatment plant (STP) for recycling drainage water and even sparrow conservation.
"We received a notification from the PCMC to take part in this Swachh Bharat awards and asked for our details, which were then forwarded to the urban development department in Pune," said Santosh Maskar, chairman of Roseland society. Then people came from Mumbai to inspect and check if we had really done all the things mentioned in the file that we had submitted, he added.
"We have been following these measures for the last five years. We started with composting at homes in a small way, then slowly convinced others to segregate waste. We even went door to door to explain and create awareness," said Anand Daptardar, secretary of the society.
Roseland Residency was one of the first in Pimpri-Chinchwad to implement the 2bin1bag / three-way (organic, recyclable and reject) waste segregation model at source in January 2016. "This is a successful model implemented in many homes, communities and mandated by Karnataka high court in Bengaluru. We have a solid waste segregation guide or handbook for each resident which gives detailed guidelines about three- way waste segregation, plastic waste and e-waste disposal systems. We also periodically train our residents and housekeeping staff," said committee member Siddharth Naik.
After looking at multiple solid waste management (SWM) initiatives at the society, Pimpri Chinchwad Municipal Corporation (PCMC) adopted the three- way waste segregation model against a standard two-way (dry and wet) and also launched the waste segregation initiative for PCMC from the society on June 5, 2017, World Environment Day.
Another effort is plastic waste collection, where a bin was kept at a common area to collect plastic waste for recycling. More than 300 kg plastic waste was collected in 2016 for recycling. Reusable shopping bags were distributed to every resident, while bags were distributed to children to collect plastic waste at home for recycling.
E-waste awareness and collection drive was conducted by Cummins India and a bin was kept at a common area to recover e-waste for recycling. Nealry 500 kg of e-waste was collected in 2016. Roseland Residency was awarded for their outstanding contribution to e-waste awareness and collection drives in 2016 as part of PMC (Pune Municipal Corporation), Cummins, Janwani e-waste awareness and collection initiative. Leaf waste is collected and composted in-house and the compost is used in the seven gardens within the society.
The society also won the first place for energy conservation at the '10th State Level Award for Excellence in Energy Conservation and Management' organised by Maharashtra Energy Development Agency (MEDA) (a Government of Maharashtra undertaking) under residential buildings category for the year 2014-15.
This is the only society where we can see and hear sparrows chirping. "We won the 2016 Wipro Nature Forever Sparrow Award for our sparrow and environment conservation efforts. We have installed around 60 water pots, 100 bird feeders and 300 nest boxes within campus. Due to these efforts, sparrow and other bird population within the society has increased," said Anand Deshmukh, committee member.
Besides these initiatives, the society also has a very good sewage water treatment plant, where the water is used for the gardens as well as for the leaf compost.
Roseland residency has set up a good example to follow
Roseland Residency winning the National Swachh Bharat Award 2017 has made many other resident welfare groups commend them on their work and feel that theirs is a good initiative that can be practised to make the societies eco-friendly and enjoyable.
Speaking to Maithili Manakwad, joint secretary of National Society for Clean Cities and secretary of Wanowrie residents forum, "The society really deserves this award for it is very difficult to manage a large group of members and get everyone to agree to the initiatives, thus hats off to them for achieving this. It is an old society and they have managed it well. But, to be very frank, we were not aware of such a competition. Thus, there should be widespread awareness. Pune Municipal Corporation (PMC) did not even alert anyone, for there are many societies who have done initiatives on their own. In our area we have many initiatives, like grey water recycling as well as solar power system. We also have water sensors in our building Windsor Avenue."
She said that PMC and Pimpri Chinchwad Municipal Corporation (PCMC) should arrange visits to this society for others to follow as it will be a good example of good practices for an eco-friendly society.
Girish Deshpande, member of Aundh Vikas Mandal said, "It is a commendable task to actually make a society achieve something at the national level. The managing committee's work is greatly commendable and indeed, no one has taken initiatives like they have. It is a replicable model, but I doubt how fired up people are to replicate this and how many are willing to go this far. Their society is a real model of social living."
According to Vaishali Patkar, president of Aundh Vikas Mandal and a member of Rohan Nilay society, "Roseland Residency is doing an awesome job and every citizen should be inspired from them. We are going to organise a workshop about how to make your society or institution more sustainable. We would like to invite them and they can train people. Though PMC is also creating awareness, and there is improvement , people are slowly changing their ways towards sustainability. However, it is happening very slowly and needs momentum. There is lot of tasks on the paper but action is zero."