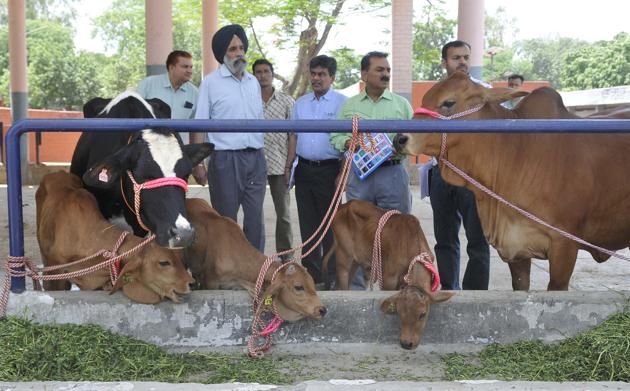 Three desi Sahiwal calves born to 'foreign' cows at Ludhiana vet varsity
Success rate of procedure was 50%; scientists implanted embryos from Sahiwal cow in 8 abandoned Holstein Friesian cows, of which three calves were born while another cow is pregnant
UPDATED ON APR 27, 2017 07:29 PM IST
Scientists at Guru Angad Dev Veterinary and Animal Sciences have successfully conducted a unique surrogacy in cows where three indigenous pure-bred calves were born to three Holstein Friesian cows. The vet varsity has claimed that this is the first such experiment in the country where an exotic breed gave birth to a desi breed.
The success rate of the procedure was 50%. Scientists impregnated a Sahiwal cow with the male of its own breed and took eight embryos and implanted them in eight abandoned HF cows. Four of the eight embryos developed in the surrogates giving way to the birth of three calves.
Dean, college of veterinary sciences, Dr PS Brar said, "The fourth HF cow is pregnant and will give birth anytime now. So far, we have two males and a female." While two Sahiwal calves were born in March, one was born back in January. The varsity is waiting for the "critical period" to pass to make an announcement.
These desi calves were produced from their exotic mothers at the mere cost of Rs 5,000. The Holstein Friesian cow which is a high-yielding dairy animal is mostly disowned by farmers after it stops producing milk. The breed is also prone to breast infection and other disorders. So, the vet varsity decided to take up this project to make surrogates out of the abandoned cows.
Scientists at GADVASU said there were nearly 1 lakh stray cows in Punjab, of which 80% were found in rural areas. "This could be a breakthrough experiment that could help in reducing the number of stray cattle. Many can be used to foster calves of other breeds," said Dr HK Verma, director, extension education.
Director, livestock farms, Dr B Bansal said there was a huge gap between requirement and availability of high quality Sahiwal bulls for the semen bank on state and national levels. "Surrogacy could help increase the population of Sahiwal cows in the country," he said.
The Sahiwal is an endangered breed and is historically indigenous to Punjab. It is a high-yielding dairy animal and receives special incentives under the Rashtriya Gokul Mission which aims at conserving and developing indigenous breeds.
Dr Brar said, "The calves born from HF cows do not have a single trait of their foster mothers but are pure-bred Sahiwal." He added that this was the first case in country where a foreign breed gave birth to an indigenous breed. Surrogacy and IVF techniques are commonly used among indigenous breeds.
The varsity is now planning to put forward a proposal to the central government to take up the project on a larger scale.
Close