3 ways to successfully handle your in-laws
Hindustan Times, Delhi |
Collin Rodriguez
Nov 25, 2018 11:41 AM IST
Having a tough time dealing with your in-laws or rather with issues of your spouse and parents? Here's some expert advice.
Often, when two people start dating each other, initially, it's just the two of them in the picture. Later, the couple also gets to know each other's friends and family members. You also visit each other's homes and meet your respective family members — it's a rosy picture. But more often than not, after marriage, this set up crumbles, and you or your spouse are at loggerheads with your respective in-laws or vice versa. And, arguably, many of us will agree that this is the reality of several marriages.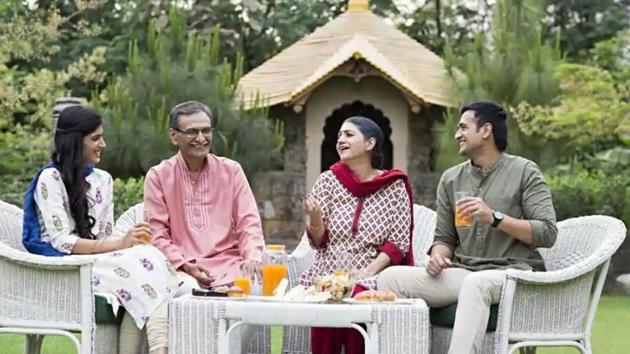 Starting point
The first difference between your partner and your parents or you or your to-be in-laws start during marriage preparations or around this time. Mary George Varghese, clinical psychologist, says that this is a very common situation in most marriages. She says, "Whether it is an arranged or love marriage, the points of disagreements are usually the same — differences about the guest list, who spends for what during the wedding, making it an expensive or inexpensive affair, you may want to spend on outfits whereas, your partner and his/her family want to splurge on food or something else, the venue, menu, décor and jewellery among other things."
Post the wedding
In many cases, the wounds that are caused during the wedding ceremony don't heal, and the rift only widens. Suyog V Jaiswal, assistant professor in psychiatry, HBT Medical College, says that the root cause of this is the third person involved in the setup. He explains, "The warring parties always have one person connecting the two i.e. husband/son or wife/daughter. The dynamics of a relationship that pivots on a third person has higher chances of differences due to lack of direct and non-judgmental communications." Also, in our country, post marriage, many women end up staying in the husband's home along with his parents. Relationship counsellor, Vishnu Modi says that this is a fertile ground for more friction.
He says, "Humans take time to adapt to new situations. Differences arise when both a wife and the in-laws are not able to adapt to their new environment. Of course, there are many other factors as well." But, according to Jaiswal, the situation may be different in a joint family setup. He says, "It's easier for joint families to take in a new family member. The very essence of a joint family is about coexistence despite differences. However, an individual's relationship nurturing can take an equal amount of efforts on behalf of the husband or his wife."
The solution
While all the parties can cause harm, they can also bring peace. But bringing normalcy into such a situation depends on the people involved. As a first, parents can help build bridges with their offspring's in-laws. Varghese says, "Parents should start familiarising with the immediate family members of the son/daughter's in-laws. Since the relationship is cloudy, a healthy approach would be to not interfere in the matters of the couple and give them space. Help the couple to seek professional help, as a professional can give an impartial and objective perspective and lead the couple to make the right decision." On the other hand, if your spouse is having serious issues with your parents, you can also help.
According to Modi the best thing in this scenario is to not take sides. He says, "Many a time, people get carried away by emotions when it comes to family members, and blindly take their sides. Take a neutral approach. If you are staying with your parents after marriage, staying separately with your wife will help sooth tempers over time and bring things to what they were when you started dating."
Aarish Singh and Achala Kaur (names changed), a businessman and a financial consultant respectively, dated for two years before they tied the knot a few years back. When they started dating, the duo would visit each other's homes regularly. The rift between Achala, Aarish and each other's parents started on the wedding day. Aarish says, "When my mother wanted Achala to wear a certain kind of bangles, she refused to do so. She was rude to her as well for some reason. My mother was hurt and I was so furious that I wanted to cancel the marriage plans." But, as destiny would have it, they got married and started living with Aarish's parents. The difference between Achala and Aarish's parents got nastier from day one, and because of this, they too started having regular tiffs. Aarish too started having issues with his in-laws, until he took a tough decision.
He says, "One day, I just decided to move out of my parents' home. The fights and arguments stopped. My wife still holds grudges against my parents. But, we are at peace now."
Modi sums it up, "Happy marriages are never easy. At the same time, you can't keep everybody happy, completely, whether it's your wife or parents or in-laws."