Just stop, you Facebook nuisance!
People get away with the most inane things when it comes to their status updates. Why can't we get away with the demand to lock them up?
sex and relationships
Updated: Jun 11, 2016 20:50 IST
Ha! In view of my fondness for the delightful virtue of exaggeration, I was going to suggest that we shoot those who have no regard for Facebook etiquettes and go on posting mind numbingly irritating status updates. But then a friend politely informed that in that case, I should be the first one shot.
Okay fine, I do admit, with a heavy heart, that I too am guilty of committing — sometimes unknowingly — etiquette blood-bath on Facebook. However, in the spirit of universal hypocrisy, I shall go on and poke fun at others who do it. Hoping we'll both learn from it.
Read: So, what are you scared of? Some handy tips to tackle fear
By the way, those of you — either medieval or intelligent — who are not on Facebook and are about to quit reading any further, please don't. This piece is as much for you as the Facebook junkies. It'll give you a rare feeling of satisfaction and relief at not being privy to all the crap the rest of us have gotten ourselves into, in the holy name of social networking.
Freshly chastised by the friend who reminded me that Facebook was invented as a medium to stay in virtual touch with friends and family, by 'occasionally' sharing photos and news about your well being — and not as the copypaste-tag monstrosity it has grown into — let me begin with a solemn pledge that ought to be compulsory for all, including the three Hrithik Roshans and two Katrina Kaifs on my friends list, to take before 'Facebooking'.
Read: Is mission admission giving you stress? Read this and keep calm
The Pledge: While aiming to try that all my waking moments of the day are not spent checking and wondering how many people have liked my last photo or status, I, hereby take the oath that I shall NOT:
1. Send friend requests to absolute strangers and then message them to express incredulity that they've not accepted so far.
2. Ignore privacy settings that enable me to disallow the whole world, including the neighbour's gardener from getting notifications each time someone comments on my photos of winning the samosa eating contest at work.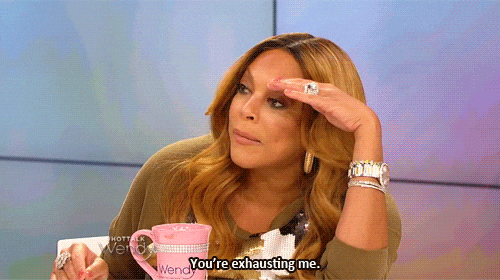 3. Tag my entire friends list on inane links or photos, totally unconnected to them, or sanity.
4. Post status updates@ five per minute
5. Keep stalking the profiles of my ex, or his ex, or her current, and their dog — mindlessly!
6. Go mental at a death-defying rate trying or spending money …. to get the perfect photo clicked for the profile, or the 'dp'.
7. And finally, not start, or participate in the spectacularly dumb chain-mails asking everyone to forward it to all the women, or men, or cats, who have made your life special and worthy, because it is the 'World Thank-you-I'm-alive-because-of-you Day.' With the pledge taken, our next mission is to ban these three kinds of irritating Facebook status-givers, forever. Are you with me?
Read: Don't be a nag parents, just take a deep breath
1. The weather tellers: First, 'Here come the clouds, looks like it's going to rain' — ha! Then, 'Hey, it's raining' — Okay, we can see that too. And then, 'I just love rains and the smell of wet earth' — one tight slap. Seriously, what's with all the undercover weather reporters on Facebook? If you love rains so much, go, look out of the window and enjoy it, dummy. Trust me, it won't go away if you will not put up a status welcoming it. Thankfully, the weather-god is not on Facebook yet.
2. The over-tellers: It's amazing how a lot of people on Facebook are perfect candidates to be the information-broadcasting minister, at least of their own lives. Pardon an involuntary disdain for the self-indulgent awfulness, but not everyone on your 3000-strong list of 'close friends' want to know how long you've been waiting for the Metro or how you squeezed a pimple this morning, or how you are going to take a shower, or visit the loo. Really? I'm not sure I wish to partake in the saga of your gastro-intestinal activities. Does anyone care? Some kind souls even prefer to offer a cordial invitation to the tech-savvy robbers by posting 'Hey everyone, we're on vacation till next week' kind of status messages. Well, all the best! I know of an idiot who posts her conversations with her driver as her Facebook status and bangs her head on the wall the next morning for having done that. Help me kill her please?
Read: Press 'delete' to add joy to life
3. The gloom tellers: We all have a secret compassion-seeker hidden within us but for some people, it pops out every time they log on to Facebook. The result is emotional song lyrics, long inspirational quotes by people with unpronounceable names, and sometimes, a detailed description of the mess that your life is. Your status tells the world how you fell off the stairs, broke your left leg, and can't pee. Some moron even likes it. And then explains that the like was to thank God you didn't die of the fall. Actually, you should have, before raising the depression quotient of the universe with such finer details of your misery. So, you decided to have a break-up with your girlfriend of 22-days. Now you've lost all trust in love and like a maniac, start posting senti song lyrics and links on Facebook. Sob, sob. Here, take a handkerchief. Laden with poison.
Sonal Kalra is suddenly mortified that after this nasty outburst, everyone will unfriend her on Facebook. She'll drink in depression and post heart-tugging poetry as her status tomorrow. Please 'like' it. And by the way, she, too, loves rains. Mail her at sonal.kalra@hindustantimes.com and facebook.com/sonal.kalra. Follow on Twitter@sonalkalra
First Published: Jun 11, 2016 20:45 IST