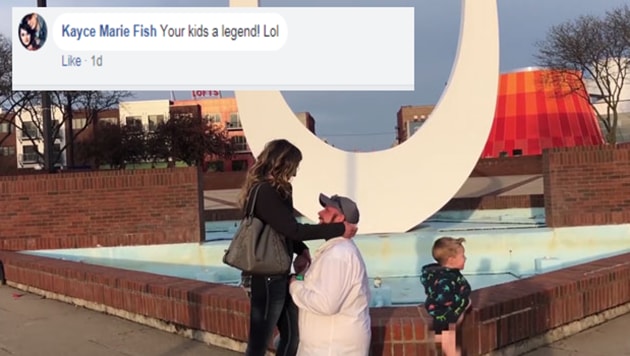 The internet can't get over this toddler who peed in his mom's proposal video
This Michigan toddle stole the limelight from mom's proposal video like a boss.
UPDATED ON MAY 17, 2018 02:01 PM IST
A wedding proposal, no doubt, is often the most cherished moment in a couple's life.
So, when Kevin Przytula from Michigan, US, decided to pop the question to his girlfriend Alyssa Anter he wanted to keep it intimate and romantic.
Przytula did not know he would be upstaged by Anter's three-year-old son, Owen and that too in the most hilarious way possible.
Just when Przytula went down on his knees, Owen dropped his pants and took a pee. The person behind the camera couldn't help bursting into a laughter as little Owen stole the limelight.
"Oh my god, he's peeing! Are you serious?" Przytula could be seen saying in the video after realising what the boy was up to when the two lovebirds were lost in their special moment.
"At the beginning of the video, [Owen] says, 'I'm gonna go pee.' But, honestly, we did not hear him say that until we watched the video back," Anter told PEOPLE.
"Once [Przytula] stood up and turned around, we realized what Owen was doing. We were kind of surprised by it. We just started laughing. It was funny, like, that's the moment he would decide to do that," she added.
The video that was shared by Przytula went massively viral before it was taken down by Facebook probably because it was inappropriate. It has collected more than 100,000 views within days of being uploaded on YouTube.
"Your kids a legend! Lol," commented one social media user.
"Best proposal ever," wrote another.
Close