Foreigner sings Lata Mangeshkar's Ajeeb Dastan Hai Yeh in Paris, people heart it
Jan 29, 2023 09:09 PM IST
The video that captures a foreigner singing Lata Mangeshkar's Ajeeb Dastan Hai Yeh in Paris was posted on Twitter.
A video that is slowly gaining popularity and wowing many on the Internet captures a foreigner beautifully singing Lata Mangeshkar's song on the streets of Paris. Shared by Twitter user Maheera Ghani, the man's beautiful rendition has captivated people and earned him a thunderous round of applause from netizens. Chances are, you may watch the video on loop.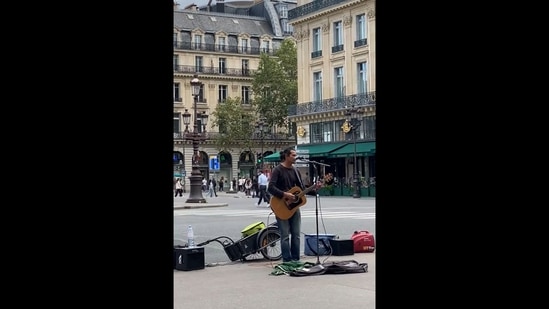 (Also Read: Man carries specially-abled friend on his back to watch Shah Rukh Khan's Pathaan in theatre)
"This guy asked me where I am from. I told him from Pakistan and he started singing this in front of opera garnier Paris," she wrote while sharing the video. Alongside, she also posted several pleading face emoticons. In the video, the busker is singing Lata Mangeshkar's Ajeeb Dastan Hai Yeh on the mic while playing the guitar as people record him and enjoy his performance. The song is from the 1960 film Dil Apna Aur Preet Parai. It is composed by Shankar Jaikishan and beautifully written by Shailendra.
Watch the video right here:
The video was shared a day ago on Twitter. It has since amassed over 2.3 lakh views and the numbers are still increasing. The share has also received more than 12,000 likes and thousands of retweets. Many even flocked to the comments section to share their thoughts.
(Also Read: Sonu Sood wants mom from viral Mere Naina Sawan Bhadon video to sing in films, tweets this)
Here's how people reacted to the video:
"OMG! I squealed. This is so good…," posted a Twitter user. Another expressed, "So wholesome." "Reminds me of the time when street performers at Bukit Bintang Kuala Lumpur had something in store for all nationalities. They sang Dil Dil Pakistan upon inquiring where I was from. Wholesome content," shared a third. "Wow," wrote a fourth. "It's beautiful," commented a fifth with a heart emoticon.