Sonu Sood wants mom from viral Mere Naina Sawan Bhadon video to sing in films, tweets this
Jan 29, 2023 03:15 PM IST
The viral video that captures a woman singing Mere Naina Sawan Bhadon was shared on Twitter.
A video that is doing the rounds on social media has taken netizens on a trip down the classic era of Bollywood. In it, one can see a woman singing the 1970s song Mere Naina Sawan Bhadon at her daughter's request while preparing chapatis in the kitchen. The video is old, and it went crazy viral again after Twitter user Mukesh Kumar Sinha shared the video on the micro-blogging site. The video attracted the attention of many, including Sonu Sood. The actor is so impressed with the woman's soulful rendition that he wants to offer a singing opportunity to her in films. He even asked Twitter users to send him her number.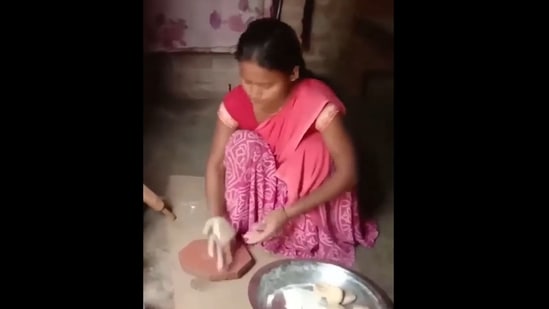 Twitter user Mukesh Kumar Sinha tweeted the video with a caption in Hindi. When translated to English, it reads, "Can it be more melodious than this? A mother singing on the wishes of her daughter." It accompanies a smiling emoticon.
The viral video opens to show the woman sitting on the floor and flattening the dough for chapatis while her daughter is heard requesting, "Mummy, please sing a song. It's been a long time." The woman interrupts and rejects her request, saying she had sung it earlier. As the video progresses, the child insists on her again, and this time, she agrees to sing but with a condition. She says it is the last time that she is fulfilling her request and begins singing the old Bollywood song in a captivating voice.
Sonu Sood quote tweeted this video. He wrote, "Send her number. Mother will sing for the film. " Alongside, he posted a heart emoji.
Take a look at the posts here:
Since being shared on January 27, the tweet has raked up more than 3.3 million views, and the numbers are still increasing. The share has also accumulated a flurry of likes and responses from netizens.
Here's how people reacted to Sonu Sood's tweet:
"Wowww, lots of love sir," posted an individual in the comments section. "Salute your spirit in promoting such people. India needs more of your like," wrote another. A third shared, "This video is very emotional." "That's the love of a mother," posted a fourth.