'Olympic sport': Anand Mahindra is impressed with waiter's plate-balancing skills, tweets video
Feb 01, 2023 08:07 PM IST
The video that captures a waiter balancing 16 plates of dosa has impressed many, including industrialist Anand Mahindra.
Anand Mahindra keeps his social media followers entertained by sharing intriguing and witty posts. And his recent share was no different. The industrialist took to Twitter to laud a waiter's balancing skills. He was so impressed that he felt 'waiter productivity' must be recognised as an 'Olympic sport'. Alongside, he posted a video of a waiter and shared that he could even be a 'contender for Gold'.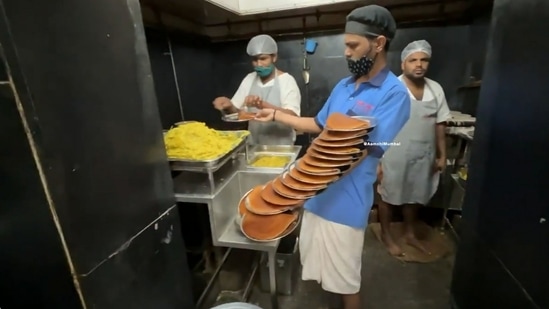 (Also Read: Amul celebrates SRK's return to silver screen with Pathaan-related doodle)
"We need to get 'Waiter Productivity' recognised as an Olympic sport. This gentleman would be a contender for Gold in that event…," wrote Anand Mahindra while sharing a video on Twitter. The video posted by Anand Mahindra shows a man making several dosas inside a kitchen while another is collecting them on plates one by one. What's more, the man collects whopping 16 plates of dosa and impressively balances them on his hand, from his palm to the end of his arm. He then walks up to the tables to serve hot dosas to customers.
Watch the video shared by Anand Mahindra below:
Since being shared a day ago, the tweet has accumulated more than 2.2 million views, and the numbers are quickly increasing. The video has also attracted several comments from several verified handles and netizens.
(Also Read: Divyanka Tripathi gifts herself Royal Enfield bike, husband Vivek Dahiya asks for a 'ride date')
Here's how tweeple reacted to Mahindra's post:
Many even shared that the man works at Bengaluru's famous restaurant Vidyarthi Bhavan. Did the man's plate-balancing skills impress you?