Aziz Ansari makes history: First Indian-American with an Emmy nomination
Aziz Ansari has been nominated for Emmys in Lead Actor, Write and Director categories for his TV series, Master of None.
tv
Updated: Jul 15, 2016 16:04 IST
Aziz Ansari has made history by becoming the first Indian-American actor to land a lead comedy-acting Emmy nomination for his series Master of None.
Ansari is also just the fifth person of South Asian descent to be nominated in an acting category.
"I am very happy but it is a very specific accomplishment," Ansari told USA Today after the nominations were announced on Thursday.
Ansari, who is also nominated for writing and directing Master of None, co-created the Netflix comedy with Alan Yang.
Read: Master of None Aziz Ansari is angry at Hollywood's lack of diversity
Watch Master of None trailer:
The 33-year-old actor plays Dev, an actor trying to make it in New York. Master of None, which is up for best comedy, crystallized diversity challenges in Hollywood in the show's fourth episode, titled "Indians" on TV.
"I think every minority actor runs into that. You hear people say things like, 'Oh, they already got the black guy.' Or, 'Oh, they already got their Asian lady.' It kind of feels like, to minority actors that I've spoken with, once they have one (minority actor cast) they're like, OK, we've placated the 'diversity issue.' That was coming from a real place," Ansari said.
Read: Visceral and scary - Aziz Ansari slams Donald Trump over proposed Muslim ban
Casual racism has also been also addressed in the show.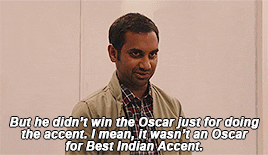 "If you're a minority, you're experiencing all sorts of casual racism all the time. And at a certain point, you just get numb to a lot of it, and you're like, whatever."
Ansari said he and Yang are currently busy writing season 2 of Master of None, which will debut on Netflix next April.
Follow @htshowbiz for more