Game of Thrones finale trailer: Daenerys Targaryen completes transformation as fans seethe with anger
Updated on May 13, 2019 04:26 PM IST
HBO has released the teaser trailer for the final episode of Game of Thrones, which will conclude the series' eight season run.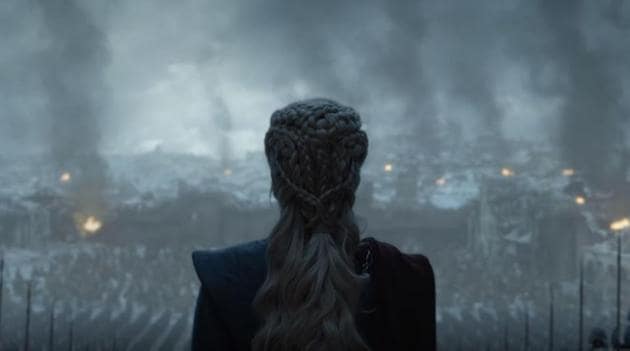 HBO has released the teaser trailer for the last ever episode of Game of Thrones, perhaps one of the most hotly anticipated series finales of all time. The 37-second teaser has about 15 seconds of actual footage, which mostly shows the aftermath of the penultimate episode, The Bells, in which Daenerys Targaryen's (SPOILER ALERT) transformation into a villain was complete.
We see several characters in isolation, following Dany's rampage in King's Landing. Tyrion surveys the damage and Arya walks the streets, surrounded by mass carnage. Winter is Coming, is what we were told in season one, but a different kind of snow is falling in the finale - it's the ashes from Drogon's fiery attacks.
Daenerys returns with a strangely magnified army of Unsullied and the Dothraki (and with redone braids). With both the Night King and Cersei Lannister gone, and no real adversary in the running for the Iron Throne, the central conflict in the finale will perhaps be between Dany and Jon Snow.
It was made clear in Monday's penultimate episode that the possibility of a romantic relationship between the two would be impossible, now that Jon's true identity is known to all. It is implied that this door being shut and the death of Rhaegal pushed Daenerys over the edge.
Also read: Game of Thrones Season 8 Episode 5 review The Bells: Daenerys' hangry decision makes it series' worst episode
The final season of Game of Thrones is the worst rated of the show's entire run, with a rating of 75% on review aggregator Rotten Tomatoes, and an audience score of 54%. The Bells is the worst rated episode of the entire eight season run, with a 48% score, beating out season five's Unbowed, Unbent, Unbroken.
You can read our reviews of the final season episodes here, here, here, here and here.
Follow @htshowbiz for more
Personalise your news feed. Follow trending topics