Mirzapur 2 trailer live updates: Kaleen bhaiya, Guddu, Munna's fight for power, revenge goes beyond Mirzapur
Oct 06, 2020 04:01 PM IST
Mirzapur 2 trailer live updates: Pankaj Tripathi's Kaleen bhaiya's empire is under threat as heir apparent Munna (Divyenndu), Guddu bhaiya (Ali Fazal) and Golu (Shweta Tripathi) have their eyes on the throne. Amazon Prime series releases on October 23.
Mirzapur 2 trailer launched on Tuesday, bringing to an end the long wait of the audience. The Amazon Prime crime series set in Uttar Pradesh's badlands stars Pankaj Tripathi, Ali Fazal, Divyenndu, Shweta Trpathi, Rasika Dugal and Kulbhushan Kharbanda. Joining them in Mirzapur 2 are Vijay Varma, Isha Talwar, Amit Sial and Anjum Sharma. The trailer has hard-hitting dialogues and amped-up violence as Guddu bhaiya makes a play on Kaleen bhaiya's empire and seeks vengeance against his heir apparent, Munna.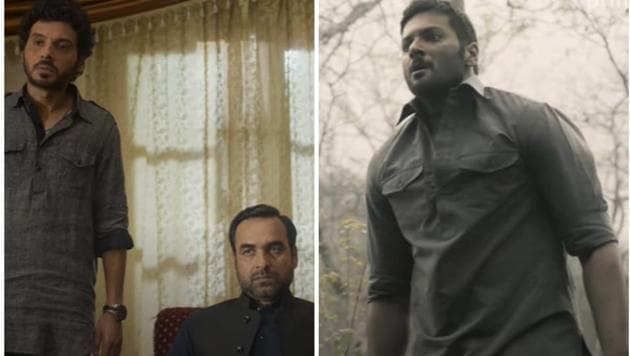 Watch Mirzapur 2 trailer
Here are the latest updates from Mirzapur 2 trailer launch:
4 pm: Pankaj Tripathi was called 'Kaleen bhaiya'
"I am usually critical about my work. Though I saw some flaws of mine and I don't like to blow my own trumpet, I realised we have indeed made a brilliant show," Tripathi said about Mirzapur. The actor said the show became so popular that he had to often remind people that his real name wasn't Kaleen Bhaiya.
2.15pm: Richa Chadha cheers for boyfriend Ali Fazal
Richa Chadha put up a post, rooting for Ali Fazal, and said that he will surprise viewers in Mirzapur 2. She also talked about his transformation as Guddu bhaiyya who has returned to avenge his loved ones. "When @yehhaimirzapur released, people said bae @alifazal9 was a revelation! Because they'd seen him only in softer parts. But that's an actors job! To become almost unrecognisable from one part to the next. My Hollywoodia Bollywoodia does that quite well! He can be chilling with Dame Dench with ease, while competing to become Mr Purvanchal! The trailer of part 2 is about to drop and rest assured, you shall be surprised again. Guddu Pandit is on the way, bas raste mein ande ka thela dikh gaya tha toh thodi kha-peeke aayenge," she wrote.
1.55 pm: Mirzapur 2 has already inspired hilarious memes
Fans have been waiting for two years for the second season of Mirzapur and celebrated the trailer release by flooding social media with hilarious memes.
1.18 pm: Anjum Sharma says he was flooded with questions on his role
Anjum Sharma, who was introduced as Sharad Shukla at the end of Mirzapur season one, said that after a point, he was irritated by the constant questions about the show because he barely entered the show and the season ended. He said that there was a lot of intrigue even about his small role and he has a surprise in store for viewers of season two.
1.12 pm: Vijay Varma said that he joined Mirzapur 2 cast soon after the release of Gully Boy
Vijay Varma said that after the release of Gully Boy, he was offered Mirzapur season 2. He revealed that it was the first project he signed after the Ranveer Singh and Alia Bhatt-starrer.
1.05 pm: Rasika Dugal says she does not want to get over the hangover of season one
Rasika Dugal said that her character, Beena Tripathi, has a journey of her own. "She plays the men like she wants to, while making them think that they are doing it on their own," she said. She added that fans have given so much love to her and the show, that she does not want to get over the hangover of season one.
1.00 pm: Mirzapur 2 trailer out
The trailer begins with an ominous voiceover by Pankaj Tripathi, saying, "Jo aayega, woh jaayega bhi. Bas, marzi humari hogi (What has come will also go but it will happen at my mercy)." Kaleen bhaiyya introduces Munna as his heir, who sets the tone for his character by declaring that whoever sits on the Mirzapur throne will set the rules.
Guddu bhaiyya makes a comeback with a bang. He promises that he will not spare the enemy if he gets his hands on them again. Shweta Tripathi, as Golu, becomes a gun-toting avenger who promises to rule Mirzapur.
This season doesn't stay confined to the violent world of Mirzapur - it takes us to the power corridors where a nexus between politics and criminals prevails. This season also takes us to a land beyond Mirzapur, a place which has its own set of violent and powerful families running various illegal businesses.
Vijay Varma plays a mysterious character who seems to control the shots in Bihar.
1.00 pm: Shweta Tripathi on her transformation to a gun-toting avenger
Shweta Tripathi said about her transformation, "From season 1 to 2, she never wanted to do that. But she is such a headstrong girl and she was made to challenge her beliefs when two people she loved the most were snatched away from her."
12.58 pm: Divyenndu Sharma said he wanted to bring out the 'humane side' of Munna
Divyenndu Sharma said that the audience could relate to Munna, despite him being such a dark character. He said that as an actor, his attempt was to bring out the 'humane side'.
12.55 pm: Ali Fazal said he made an emotional call to Vikrant Massey
Ali Fazal said that he missed shooting with Vikrant Massey and Shriya Pilgaonkar, who were killed off in the last season of the show. "We missed them on set so many times," Ali said, adding that he got emotional and called Vikrant when he shooting at a location they had earlier shot in together.
12.50 pm: Pankaj Tripathi watched Mirzapur for the first time during the lockdown
Pankaj Tripathi, who plays Kaleen bhaiyaa in Mirzapur 2, said that he watched the show for the first time during the lockdown as he was busy earlier. He said that he is usually critical of his work but he felt like this time, they had done a good job.
12.45 pm: Mirzapur writer Puneet Krishna says Mirzapur 2 is made on a larger scale
Mirzapur writer Puneet Krishna said that the canvas is larger in Mirzapur 2. The story will move to different cities too and there are new actors. He also added that this season will be high on 'human drama'.
12.40 pm: Mirzapur 2 trailer promises revenge and killings
A sneak peek of the trailer of Mirzapur 2 was shared at an online media interaction. Apart from revenge and guns blazing, there were new entrants in the Mirzapur universe. Vijay Varma will be seen in a pivotal role.
12.20 pm: Shweta Tripathi says she was shaken when she held a gun for the first time
Shweta Tripathi, who plays Golu in the show, said that she was rather uneasy when she handled a gun for the first time. "I still remember the first time I held a gun; the loud shook me completely. I knew right then that I had to train for this. We used real guns and so I worked with stunt director Manohar Verma for the next 10 days at his training arcade near Film City," she said in a statement.
"The real confidence came on the set. While emoting and blazing guns, making sure it's all smooth, was a tough one to pull off. Especially for someone like me because I don't like violence but this is not Shweta but Golu's journey. I am living Golu's life. One of my first days of shoot in Mumbai, and I extensively prepared myself emotionally. This is the first time I was doing action and I had started much in advance to train physically. The character has an interesting arc and we see her in a very different light in this season. She couldn't have looked like Golu from season 1. I would finish shooting and train daily. We don't see many women holding guns so if I am doing it, I wanted to do it well," she added.
If Mirzapur 2 trailer has twin themes, it is revenge and greed. Ali Fazal's Guddu bhaiya and Shweta Tripathi's Golu want revenge for the deaths of their family, Babloo and Sweety, and Sharad is ready to enter the murky world of crime to avenge the death of his father Rati Shankar. Rasika Dugal's Beena is seething too. When Mirzapur ended, we saw her looking for a gun to take revenge for the horrific crime done to her. In the middle of it all is Kaleen bhaiya (Pankaj Tripathi) and his heir apparent Munna (Divyenndu Sharma).
Also read: Ahead of Mirzapur 2 trailer release today, Mirzapur ending explained
Produced by Farhan Akhtar and Ritesh Sidhwani under their banner Excel Media & Entertainment, the second season of Mirzapur will premiere on October 23 on Amazon Prime Video.
Guddu and Golu swear revenge
After Vikrant Massey's Babloo and Shriya Pilgaonkar's Sweety are killed by Munna in Mirzapur, an injured Guddu forms his team with Golu. The two not only want revenge but also want to rule over Mirzapur. Violence is amped up as they go on their twin missions.
Munna is changing Kaleen bhaiya's rules
After his failed attempt to kill his father, Munna is raring to become the new king of Mirzapur. He is changing the rules of the game as a wary Kaleen bhaiya watches.
Sharad wants his pie too
After the death of his father, Sharad refuses to sit on the sidelines. He decides to take on Kaleen bhaiya and his mother is his cohort.
"Exciting news! Hindustan Times is now on WhatsApp Channels
Subscribe today by clicking the link and stay updated with the latest news!"
Click here!
Get more updates from
Bollywood
,
Hollywood
,
Music
and
Web Series
along with
Latest Entertainment News
at Hindustan Times.