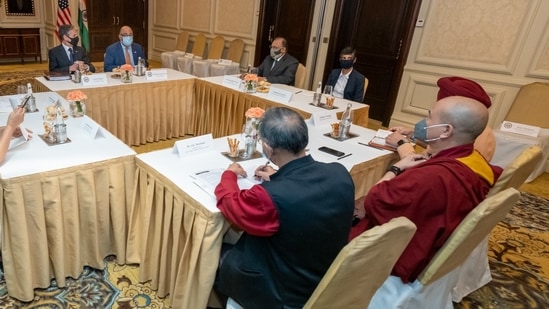 With China in mind, Blinken meets Dalai Lama's representative in Delhi
US secretary of state Antony Blinken shared on Twitter a few photos from a gathering that was attended by Geshe Dorji Damdul, director of Tibet House in Delhi.
UPDATED ON JUL 28, 2021 03:36 PM IST
In a move that may anger China, US secretary of state Antony Blinken held talks with a representative of Tibet's spiritual leader, the Dalai Lama, during a meeting with representatives of civil society organisations in Delhi on Wednesday. The top US diplomat is on his maiden two-day official visit to India.
Blinken, who took to Twitter soon after the meeting, shared a few photos from the gathering. The meeting was attended by Geshe Dorji Damdul, director of Tibet House in Delhi, cultural centre of the Dalai Lama.
Blinken also met briefly with Ngodup Dongchung, a representative of the Dalai Lama. A State Department spokesperson said, "Secretary Blinken had an opportunity to meet briefly this morning in New Delhi with a representative of His Holiness the Dalai Lama."
Dongchung reportedly held a separate 10-minute meeting with US envoy Atul Keshap during the day.
The meeting is the one of the most significant contacts the US has so far made with the Tibetan leadership since the Dalai Lama met then-president Barack Obama in Washington in 2016.
Beijing says Tibet is a part of China and has labelled the Dalai Lama a dangerous separatist. China's foreign ministry has not responded to a request for comment.
Close on the wheels of Blinken's visit, US defense secretary Lloyd Austin had said China was working against the shared principles and interests of the US and its partners across the Indo-Pacific. While the US and its friends are committed to inclusion and freedom of the seas, China had shown "unwillingness to resolve disputes peacefully and respect the rule of law", he said.
The CTA and Tibetan advocacy groups have received a boost in international support in recent months amid rising criticism of China's human rights record, particularly from the United States.
In November, Lobsang Sangay, the former head of the Tibetan government in exile, visited the White House, the first such visit in six decades.
A month later, the US Congress passed the Tibet Policy and Support Act, which calls for the right of Tibetans to choose the successor to the Dalai Lama, and the establishment of a US consulate in the Tibetan capital Lhasa.
Earlier, the US said it backed India's emergence as a leading global power and vital partner to make the Indo-Pacific a region of stability and economic inclusion.
(With agency inputs)
Topics
Close